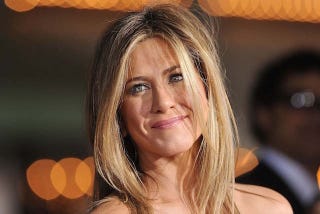 I suppose if you're 1. the co-owner of a multimillion-dollar haircare line and 2. known throughout the world for having preternaturally great hair, you might know a thing or two about a bad haircut.
'The Rachel,' though: was it a bad haircut—one that sent flocks of mid-'90s women (yours truly included, though I was but an adolescent and not really a "woman") to their hairstylists with pages torn from People, demanding the same swingy/layered-y bob, with a few honey highlights for good measure, only to be met with quizzical glances and sighs that your own hair texture is too mousey to pull it off and it definitely wouldn't work with your thick-ass bangs but sure they'll give it a try because your mom is paying—or just too high-maintenance for a woman who prefers "long, natural-looking beachy waves"?
The answer is the latter, according to Glamour, which also reports that Jennifer Aniston admires the locks of Kate Moss and Gisele Bundchen and, once upon a time, used to sweat Valerine Bertinelli's mane. And if you didn't come of age in the '90s and have absolutely no clue what I'm talking about, no worries: here's a montage of 'Favorite Rachel Moments,' compliments of YouTube, for added visual hair-spiration.
Image via Getty