Thus far, 2012 has looked somewhat promising for the survival of love (Snooki's engaged, after all). But now we have news which promises to kill our faith in marriage for eternity: 90210's Jennie Garth and Twilight's Peter Facinelli are calling it quits after 11 years of marriage.
The two announced their split today, saying they remain committed to working together to raise their three daughters—14-year-old Luca, nine-year-old Lola, and five-year-old Fiona. Facinelli, who has lately been known for his role as one of the vampiric Cullen clan, and Garth, who will forever be Kelly Taylor in our hearts, got married in 2001. They seemed to be the rare Hollywood couple that had figured out how to make it work, but apparently they're just like the rest of us. Sigh. Though on the bright side, this means there is nothing left to challenge our fantasy that Kelly and Dylan end up together in the end. (Paging Luke Perry!) [Us]
---
You guys, Jessica Simpson is STILL pregnant. What's even crazier is that she told Ellen DeGeneres that she is still "weeks away" from her due date. Egads! The good news is that her expanded belly is not dampening her desire for sex. She was happy to discuss the matter with Ryan Seacrest today, saying: "I am definitely 'feeling intimate.' I'm kind of unstoppable right now. The Big O is, like, the biggest O ever!" Not one to hold back in the least, she also said her fiancé Eric Johnson is "always ready." Well, wouldn't want to leave a pregnant lady high and dry.
Oh, and if you were worried that she was going to do something horrifying like marry Johnson while she was still carrying some of her baby weight, you can rest assured. A source says, "She hates the idea of getting into a wedding dress until she's given birth and lost the baby weight." Of course it has to be true if a source says it, but Jessica herself told Elle that she's loving her new body:
I'm like 170 pounds and I wanted to post nude. I try to be like 110 pounds. It's funny to be at your heaviest and feel the most confident. I just take such pride in being a mom! I just love my body more than ever now.
G/O Media may get a commission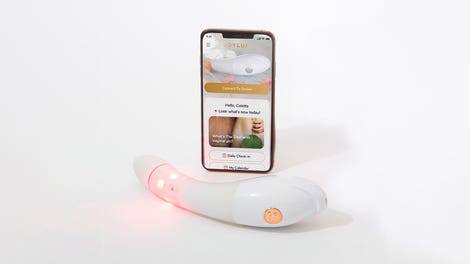 $50 Off
Joylux vFit Gold Device
We'll just have to wait for her wedding, which will undoubtedly be televised, to find out how this riveting storyline ends up. [NYDN, ONTD, Showbiz Spy]
---
Jessica Biel might seem like a girly girl, but she told W that she was a tomboy growning up. She says she played with Barbies, but not for dress-up purposes:
It was always, "Let's play sex with Barbies!" My Barbies were usually naked. Once, I took their heads off, cut their hair, drew on their short, spiky hair with some markers, then stuck the heads on Christmas lights. Every year, we'd string our tree with those Barbie heads. It looked demonic. My parents were so cool-they saw it as a form of self-expression.
Looks like we all have a new idea for our holiday decorations. [Page Six]
---
Is Prince Harry really nursing a crush on Pippa Middleton? Maybe. He reportedly sent her a potentially flirty communique. A source says the H-Bomb sent Pippa some photos of him on his Caribbean tour with a text that said "See what you're missing? Xoxo." Hmm. Though this pairing would be so magical it would cause the internet to explode, let's not get too worked up about the possibility of Royal brothers marrying sisters until we have confirmed proof of at least sexting-level correspondence. [Daily Beast]
---
While I dislike almost everything about Smash, I for some reason cannot stop watching it, and so it is with great shame that I admit that upon reading the news that Nick Jonas will be reprising his role as Lyle West on the show's season finale, I actually made a kind of "aaaoohh" noise. He wasn't terrible during his first turn as Lyle, so hey, why not bring him back. Now if someone can please explain how the show manages to make the magnificent Anjelica Huston look like a bad actress, that would be very helpful. [THR]
---