Obviously substance abuse is not funny, physical harm is not funny, falling from grace is not funny, loss of bowel control is not funny, incarceration is not funny, and whatever the fuck happened here was really not funny. That said, LOOK AT THE SMIRK. The smirk is the funniest thing I have ever seen. The smirk is my new writing partner. Jason London (the Dazed and Confused London, not the 7th Heaven London) was arrested Sunday night for punching a bouncer after the bouncer supposedly sneezed in his face. But the Hollywood glitz didn't stop there! After a classic "Don't you know who I am!?" tirade, London allegedly revenge-pooped in the back of the cop car. Real poop. Like out of his butt. For revenge.
On his way to the police station ... Jason uttered a homophobic slur to the cops ... saying, "Guess what fa**ot? I f***ing love this. I f***ing own you guys so hard. I'm rich and I'm a motherf***ing famous actor! F***ing look me up, bitch."

Jason continued ... "It smells like s**t in your car and your breath smells like diarrhea." According to the police report, Jason then leaned to the left and crapped in his pants. Jason then said, "I told you I'm happy as s**t."

The next day, cops say they spoke with Jason's wife Sofia who told them ... "I know he's an a**hole when he drinks."
Oh. Yes. Well then. Sounds good. In an attempt to clear his name, London responded today on Twitter:
"I would never say or do the crap they are reporting. Have faith in me. The truth will come out and you will see."

He continues, "Some guy thought I was hitting on his girl and had me jumped. My wife was in the next room, had no idea what even happened. I hate Arizona."
I'm incorporating "It smells like shit in your car and your breath smells like diarrhea" into my wedding vows. [TMZ]
---
G/O Media may get a commission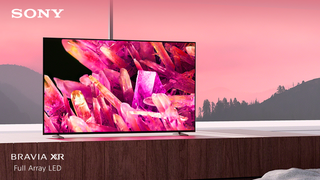 $400 off
Sony 55 Inch 4K Ultra HD TV X90K Series
Merry Christmas! Lindsay Lohan is being a great big dick again. Lohan said she was "too sick" to go to court, but her friends say she's been partying her nuts off:
"Lindsay has been hanging out with her usual cast of shady friends, and they have been wreaking havoc at swanky hotels in Manhattan. Lindsay doesn't appear to be sick, and photos reveal that she doesn't look like someone too gravely ill to travel."

..."This isn't the first time Lindsay has pulled a stunt like this. She claimed her passport was stolen in Cannes, France and failed to appear for an appearance for her DUI case," a law enforcement insider revealed.

"This isn't Lindsay's first trip to the rodeo, and she is just making a total mockery of the legal system."
Okay, at this point can we just flip it and only call it "news" when Lohan does show up for court? I think that'd save everyone a ton of time. [Radar]
---
This is straight-up tabloid shit (I have a feeling the "source" quoted is just Katie's macrame hat), so salt away, but I like it so let's pretend it's true. Apparently Katie Holmes is considering quitting acting to go to law school! Squee!
The internet is rife with rumours that the actress has enrolled at a law school.

Katie's friend allegedly told the National Enquirer that she's sick of her job and wants to be a better role model to her six-year-old daughter Suri.

It's also thought she wants to escape the spotlight cast on her in the fallout of her marriage split from Tom Cruise.

This isn't the first time Katie, 34, has considered a different profession – in the '90s she applied to New York's Columbia University.
Okay, wait. If she applied to Columbia and then didn't go, how can she have "enrolled at a law school"? Wouldn't she have to start with undergrad? Goddamnit, tabloids, quit shattering my illusion! [TheSun]
---
Lolollllloolololloololl apparently some guy bought Bob Guccione's storage locker (a la Storage Wars) and discovered a NUDIE PENIS PHOTO of Arnold Schwarzenegger inside. Now he's trying to figure out what to do with it, even though the answer is obviously bury it in the desert. [TMZ]
---