Americans love family-oriented TV shows, from Donna Reed and Leave It To Beaver to The Brady Bunch, The Cosby Show and Modern Family. As American families have changed, so have the families on TV: We're seeing more families of color, single moms, and gay dads. But a new pilot — produced by Jennifer Lopez and just given the greenlight by ABC Family — just might turn into the first show to star a lesbian couple who are moms.
According to the Associated Press:
ABC Family said Thursday the comedy-drama pilot, titled "The Fosters," is about two women raising a "21st century," multi-ethnic mix of foster and biological kids.
It's obviously still very early, but I'm picturing Ellen and Portia raising the Jolie-Pitt kids, and that sounds awesome.
It's worth noting that ABC Family — a subsidiary of the Disney-ABC Television Group and the #1 network in primetime for women 18-34 — has a history of trying out progressive programming. In 2009, the network aired a series loosely based on the film 10 Things I Hate About You, in which the lead character, Kat, was an outspoken self-proclaimed feminist. In 2010, ABC Family ran Huge, the very diversely cast series about kids at weight-loss camp. A show about a lesbian couple raising a family might be considered too controversial for a network with an older viewership, but I'll bet that Millennials tuning in for Pretty Little Liars will embrace the Sapphic story. If the pilot gets picked up, that is. We'll see.
G/O Media may get a commission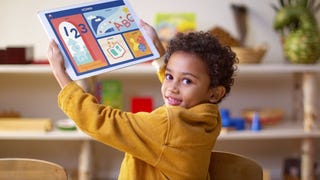 30-Day Free Trial
Homer Learn & Grow Program
ABC Family orders Jennifer Lopez-produced TV pilot [AP via Miami Herald]
ABC FAMILY CONTINUES ITS ORIGINAL PROGRAMMING MOMENTUM WITH NEW PILOT PRODUCTION [ABC Family Medianet]