Maybe it's because I grew up black in a preppy, WASP-y upper-middle-class community, but I've always held a fascination with J. Crew. And ever since the retailer's offerings actually got cute, even more so. (Hell, even Jim Cramer loves the company.) Last week, the company's Very Merry Gift Guide arrived in my mailbox — nicely-sized, beautifully-printed — and, no surprise here, there was some special stuff to be had. It actually made me very merry! But Dodai? Not so much! After the jump, the two of us riff on the holiday offerings from the company Dodai says has a "post-collegiate pseudoarchitect with country house on the Cape lifestyle " aesthetic that isn't quite her.
Anna: I like the wellies with the polar bears, but should they really be putting animal fur (what does "sherpa" mean, anyway?) into an accessory with an endangered species on it?
Dodai: I have no problem with these. Just out of curiosity: What is the origin of preppy green? Who decided green was preppy? And was the decision made in a country club? (Sherpa-lined critter wellies, $78).
Anna: I hate heels but c'mon, these are adorable. (What color is better? "Holiday Red" or "Raisin"?) Also: Do you think if I tap my toes together I can make it all the way to Kansas?
Dodai: I love red, I love shoes, I love Mary-Janes. But for some reason I hate these shoes. They look like they hurt. And the heel is all wrong. I'm getting annoyed. (Patent-leather Mary Janes, $198).
G/O Media may get a commission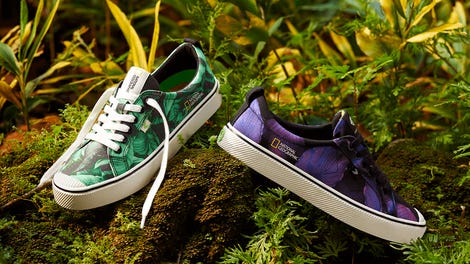 New New New
Cariuma + National Geographic
Anna: Holy ridiculously overpriced belt! Also, holy cute, unnamed jacket!
Dodai:I give them props for putting yellow and purple together because people are generally afraid of color. But what are the chances that any actual woman will copy this look? (Hand-beaded cheetah sash belt, $295)
Anna: I know how you feel about argyle, Dodai but you gotta admit: argyle knee-highs? Nice! Also: A glittery sweater with a Scottie on it? Is this 1983?
Dodai: I like argyle. It's a classic. But J. Crew does it year after year after year. In a word, yawn. (Argyle knee-highs, $12.50; Scottie Glitter Critter Sweater, $78).
Anna: Yes slippers; no slipper-socks.
Dodai: Everything on this page is destined to be filthy. (Bedroom ballet slippers, $49.95; Cashmere slipper socks, $225).
Anna:Bulldog PJSs??? Why do guys get all the cute stuff?
Dodai: Ha! You should buy them anyway. I buy mens' jeans all the time. Labels hurt everyone. (Bulldog santa sleep-in pant, $49.95)
Anna: There are no words.
Dodai: I've said it before and I'll say it again: They never list the price for the stuff you really want.