The Lizzie McGuire Movie turned 15 on May 2, but don't talk to Hilary Duff about it. Talk to me, a human woman who was 11 years old in 2003 when the movie was released. I've been obsessed with it ever since and had 15 years to consider how its nonexistent sequel might play out. Follow me.

In terms of plot, The Lizzie McGuire Movie suspended itself from real-life teen girl narratives that drove the success of the television show that came before it (who could forget the "I want a BRA!" episode), with few exceptions (who could forget the episode where a still-sweet Aaron Carter fell in love with our dear Duff, who portrayed McGuire). For that reason, both were awesome, but the movie exuded new excitement for McGuire-heads with its plot—essentially, our beloved crew sans Miranda Sanchez (Lizzie's BFF and one of the few people of color on the show) embark on a junior high graduation trip to Rome, because that is a completely normal thing to do after middle school.
Anyway, they go, they're seeing the sites, they're eating the food, they're riding Vespas, and then, suddenly, a very hot Italian child and also pop star named Paolo literally runs into Lizzie at the Trevi Fountain, mistaking her for a newly blond Isabella—his singing partner. They're perfect doppelgängers. Lizzie's like, what, who are you, dreamboat man? Paolo tells Lizzie to join him to impersonate Isabella at a big concert because she's sick or quit the band or something—I don't know, it's been 15 years. Eventually, Lizzie finds out he's a bad guy, but only with the help of Gordo, her other BFF that is not Miranda and with whom she's had a tweenage will-they-won't-they vibe with since the beginning of the franchise. G saves the day, Lizzie sings at the Coliseum and—boy howdy, bet you didn't see this one coming—kisses Gordo!!! We've waited years for it!!!
But what happened when they returned home from Rome and the whimsy and romance of a European vacation wore off? When they realized their lives were mundane, high school was nigh, and that they'd do anything to return to their air conditioner-less existence in Italy, eating gelato and running the risk of twisting an ankle on a gorgeous cobblestone road?
Here are a handful of possibilities:
1) On the plane home, Gordo rests his head on Lizzie's shoulder and snores softly. She thinks it's a sweet mome, until he begins to drool on her silk, cap-sleeve blouse. She recoils—boys are gross!—and wakes him up for a DTR convo right then and there, somewhere over the Atlantic. He might not be the BFF she's in love with after all.
G/O Media may get a commission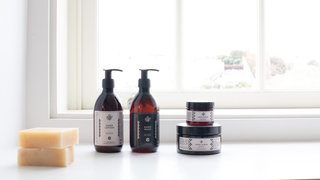 Exfoliate and Hydrate
The Handmade Soap Company
2) Gordo and Lizzie spend a romantic summer month together leading up to high school before realizing Gordo is a nerd and Lizzie won't be in any of his classes. They begin the all-too-familiar process of conscious uncoupling. At some point in their sophomore year, Gordo goes goth, in a good way.
3) While preparing to leave Rome, Lizzie realizes that the country is kind of in love with her after her performance with Isabella, and that school might be a waste of time for her. She cuts things off with Gordo to pursue a pop career in Italy. It doesn't pan out.
4) Gordo and Lizzie are high school sweethearts who break up an hour after graduation in a booze-aided hazed. It's alright, though: Lizzie goes off to NYU and eventually gets a job at a literary firm, where the current Hilary Duff show Younger takes place. Full circle, baby.