As you may have heard, Michelle Obama recently wore a red Alexander McQueen evening gown to a state dinner held in honor of the Chinese president, Hu Jintao. This apparently made a lot of people very unhappy.
Oscar de la Renta, who previously opined that Obama's cardigan was the wrong thing to wear while meeting the Queen of England, said it was a shame that a First Lady wasn't supporting American designers — as if Obama had not already given huge boosts to the careers of such U.S. talents as Thakoon Panichgul, Naeem Khan, Jason Wu, Rachel Roy, Maria Cornejo, Narciso Rodriguez, Isabel Toledo, and de la Renta's own son, Moises. Diane Von Furstenberg, in her official role as president of the Council of Fashion Designers of America, piped up in agreement with the idea that Obama should have worn something "American" to the dinner. Women's Wear Daily editor Bridget Foley joined the chorus, writing: "To wear something other than American at this particular trade-centric mega-fete embarrasses a major U.S. industry that continues to need all the help it can get." Vanity Fair's Bob Colacello criticized Obama on dress-national-origins terms, but also said the McQueen made her look "too big."
Kate Betts wrote a riposte defending Obama's right to wear what she likes. Cathy Horyn similarly hit back on her New York Times blog by pointing out that the fashion industry is highly internationalized, and that many American designers — including Diane Von Furstenberg herself — manufacture their clothes overseas, especially in China. Fashion is and has always been a global soup; A garment might be designed in one country, manufactured in another, with fabrics sourced from a third, garment workers are often immigrants, and whatever the designer's nationality and headquarters, his or her brand may be owned or backed by a company based somewhere else entirely. (Alexander Wang manufactures in China. Proenza Schouler is owned by Permira, a private equity firm headquartered in London.) Et cetera. And for a First Lady to wear a foreign designer is hardly a new phenomenon: Jackie Kennedy was known to wear Chanel from time to time.
As women, our physical appearance and dress are constantly scrutinized and policed by cultural forces as specific as the bosses who oblige female employees to wear makeup and as diffuse as Vogue and the sea of Photoshop-perfected advertising in which we are all awash. Women bear the brunt of a fusillade of superficial critiques — about how much we should weigh, how our skin is supposed to look as we age, how we must dress, for fuck's sake, we're even meant to divide our wardrobes into "high-fat" and "low-fat" clothing, because God forbid a woman ever be thought of as fat — that is both disturbing (to most) and highly lucrative (to a select few). If the cultural message is that the most important thing about a woman is how she looks, then the consequence is that looking "bad" or wearing the wrong garment becomes the worst thing a woman can do.
G/O Media may get a commission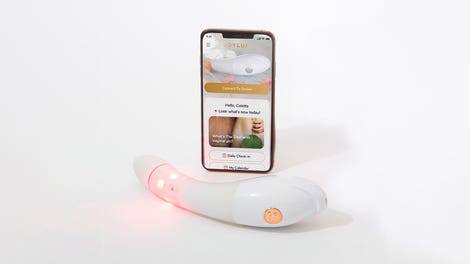 $50 Off
Joylux vFit Gold Device
Michelle Obama is a Princeton and Harvard-educated lawyer and former executive at the University of Chicago Hospitals system who happens to dress pretty well and be married to the president of the United States of America. But what are the stories about her that have dominated the media? They're not about her skills, her experience, her mind, or even about her almost disgustingly uncontroversial pet issue, fighting childhood obesity. The Michelle Obama News is about whether her eyebrows are "angry." Whether her clothes mark her as a "new Marie Antoinette." Whether her clothes mark her as a "new Jackie Kennedy." (Even the positive press Obama has received as a "fashion icon" has always made me a little bit uncomfortable. It would be fine if that weren't the only angle of coverage, but it seems like her fashion sense is discussed to the exclusion of anything else.) And lately, the "story" is whether she was right to wear a dress designed by a British creative director under the auspices of a fashion brand owned by a multinational headquartered in France, a dress manufactured in Italy, and sold to her (most likely) by an American retailer.
It's probably obvious where my sympathies lie in this "debate" — obviously, the only defensible position is that Michelle Obama should wear whatever the hell she wants — but more than anything, I just hate that here we all are, still taking a talented and hard-working woman with a formidable mind, and analyzing her for news cycle after agonizing news cycle on the basis of how she dresses herself. The latest is now in from Hadley Freeman, who takes the (to my mind respectable) position that a garment's notional national origins is an insufficient argument in its favor, and women like Michelle Obama and Kate Middleton should wear what they like; The Dress story is going international, with a side of royal wedding fever! The state dinner happened on January 19. When is this going to end? And is there any chance we might move on to discussing Michelle Obama's actual, you know, work anytime soon? (Maybe someday we'll even be allowed to have a First Lady who keeps her regular job after entering the White House.)
Should Michelle Obama And Kate Middleton Be Patriotic About Designers? [Guardian]