The Washington Post and the Kaiser Family Foundation conducted a nationwide survey — including over 800 interviews — from which a "complex portrait" of black women in the United States has been drawn.
Obviously many stereotypes exist: The angry black woman, the strong black woman, the single black woman, the "welfare queen." But the poll findings tell a different story.
Much has been made of the statistics of black women who never get married and the Waiting To Exhale trope of how it's hard to find a good man. But according to the poll, only 40% of black women say getting married is very important — compared with 55% of white women. Nika Beamon, a TV news producer and homeowner tells the Post: "I didn't work this hard to get married."
The "angry black woman" cliché should probably be changed to "frustrated black woman." One-quarter of black women surveyed said "they often perceive that others think they are not smart." The Post points out that this perception is shared by both educated and less-educated black women. Jennifer Smith, a senior at the University of Maryland, has been accepted into six prestigious medical schools; she's an honors student who attended school on a on a full academic scholarship for minority students and feels pressure to prove herself. "You still have to make sure you lay all of your credentials out there - your transcript, your portfolio, your résumé. They show why I am here… I always want it to be clear that I got here because of what I did."
Half of black women surveyed call racism a "big problem" in the U.S., but that doesn't mean that they are discouraged: nearly three-quarters also said "now is a good time to be a black woman in America."
Still: Nearly 6 in 10 black women said that they are concerned about providing a good education for their kids.

But the most interesting part of the survey was an additional poll — which is still open — asking, "Overall, do you think the images of black women in the media perpetuate stereotypes?" As of right now, 90% of respondents have repled "Yes." (I was one of them.)
Although there are more high-profile, successful women to use as role models than ever before — from Oprah to Condoleezza Rice to Michelle Obama — we're still inundated by negative imagery (when there is any, at all.) Black women are underrepresented in fashion, government, and film. And take TV: In the '80s, we had Claire Huxtable and the college gals of Different World, but now catfights and foul language on Basketball Wives, Real Housewives Of Atlanta and Bad Girls Club. Very few of the top non-reality shows on TV — NCIS, Two And A Half Men, The Big Bang Theory, The Mentalist, Rob, Modern Family, Criminal Minds — have a black woman on them. Person Of Interest and Grey's Anatomy have black women in their ensemble casts, but not as the solo star. Jada Pinkett's critically panned show HawthoRNe was canceled last fall. Since 1974, there have only been two hour-long dramas with an African-American woman in the starring role, and HawthoRNe was one of them. The No. 1 Ladies' Detective Agency was the other. VH1's Single Ladies — which is getting a new star, Denise Vasi — is considered a comedy series.
G/O Media may get a commission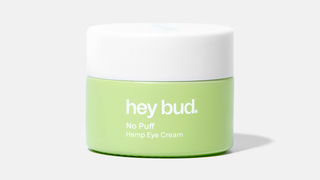 15% off
Hey Bud - No Puff Hemp Eye Cream
The Post spoke with 69-year-old Ruth Lawrence Driver, who lives in a townhouse with her daughter and grandaughters. Driver went to segregated elementary schools in North Carolina, attended university and is a retired teacher. Her daughter attended college and got a master's degree in social work while raising two kids alone. Driver's grandaughters, now 16 and 17 years old, watch Bad Girls Club and Love and Hip Hop, and Alani, the 17-year-old recently announced she's not interested in going to college.
That prompted her mother to shout, "You will go to college!" And that was followed by more yelling that no daughter of hers was going to ruin generations of progress. Tears were shed. Alani relented. And she has begun applying to colleges.

"I didn't know it was such a big thing," she says.

Her younger sister has also promised to go to college.

"It's important to me that they see that they are building upon a foundation," [their mother] says. "We have to continue to build each generation. It's important for our uplift as a people and our uplift as women."
Seems like that uplift is even more of a struggle when there's so much negativity surrounding black women in media and pop culture.
Survey paints portrait of black women in America [WaPo]
Washington Post-Kaiser Family Foundation poll (results) [WaPo]
Is it a good time to be a black woman in America? [WaPo Poll]