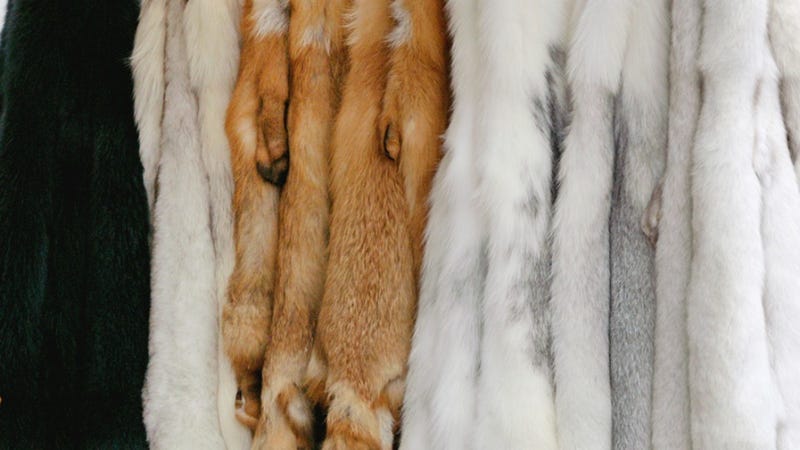 Guys, are you sick of your J.Crew paisley iPhone cover? Drape it in a rodent, yo. (Apologies to the anti-fur readers, who may not appreciate this quite as much. Remember it was a different time)
A vintage issue of Mechanix Illustrated from May of 1950 showcases the ingenuity of Hollywood furrier Al Teitelbaim. When he was showing an unfinished mink coat to glamour girl Dorothy Lamour, star of the Road To... movies with Humphrey Bogart, he draped a pelt over a telephone and she went nuts. She commissioned a custom-made upholstered mink telephone, and Teitelbaum delivered. Soon he was swamped with novelty fur commissions from celebrities, which made him more money than his actual business.
His dreamy creations included an ermine jacket for a producer's daschund, a tie for Lana Turner and a leopard-lined raincoat for Paulette Goddard, mink umbrella covers, lampshades, an ermine-upholstered typewriter made as a gift from another producer to his writer wife as a congratulatory gift for selling her first story (my favorite), and so on. Click through for the awesome vintage shots of the pieces, which are very likely languishing in someone's attic today. Check your attics, guys.
His two weirdest projects, by far, both studio-commissioned for publicity, were definitely a fur-lined bathtub for a dream sequence in a film called Miss Mink of 1949 and an elaborate fur-lined nest crafted to house and hatch an ostrich egg (it didn't work). But still, :DDDD!
'He Makes Mink Telephones (May 1950)' [Modern Mechanix]
Image via Gelia/Shutterstock.