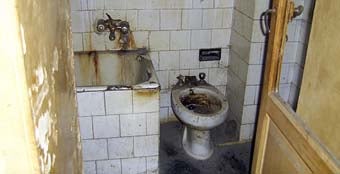 And you thought it was just the Austrians who were sick fucks: 47-year-old Maria Monaco of Italy, much like 42-year-old Elisabeth Fritzl of Austria, was found captive in her mother's house after 18 years of imprisonment. Upon receiving an anonymous tip, police found Monaco locked in a room where she was "surrounded by filth and cigarette butts," according to the IHT. At left, you'll see a photo of the noxious bathroom attached to Monaco's locked bedroom. While police suspect that Maria's mother, Anna Rosa Golino, had imprisoned Maria because she had a child out of wedlock, the family is insisting that Maria was locked up because she had severe mental problems. Gianfranco Carbone, Golino's lawyer, told the IHT, "The family was only trying to be discreet… [Maria] has serious psychological problems and refused to undergo any therapy. The family was ashamed for her."
Maria's siblings, Michelina and Prisco, have also been arrested, and while the IHT reported that Maria's 17-year-old son lived in the house with her, according to the AP he was living with relatives nearby and didn't know about his mother's imprisonment. The lawyer for Maria's mother claims that the "The family accepted him [Maria's out-of-wedlock son]," and "That should mean something."
In other Italian kidnapping news, a man in Genoa nabbed his ex-girlfriend from a bar. From there, he took her back to his apartment and after threatening to injure her, made her do his ironing. Apparently he was "furious" that she broke up with him. He's in police custody as well.
Another Imprisoned Woman Is Found, This Time In Italy [IHT]

Woman Freed After Being Locked Up For 18 Years [AP]

Man 'Kidnapped Ex-girlfriend To Do Ironing' [Telegraph]
Earlier: Austrian Man Locked His Daughter In The Basement For 24 Years