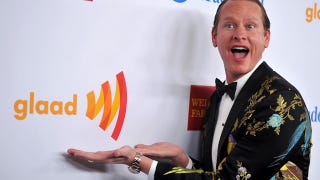 The best thing about a party full of openly gay and gay-friendly people is that flamboyance isn't considered a bad thing.
Former America's Next Top Model contestant Isis—now a post-op MTF—looked amazing in sequins and leather.
Empress Pepperica Swirl and Emperor Vanity Society looked like royalty—or Queenie.
Jay Manuel looked uncharacteristically subtle. Johnny Weir showed off his ankles. Carson Kressley wore a busy smoking jacket.
Shining in sequins: Tracy Gold, Dakota Fanning, and Laverne Cox.
Some of the more reserved attendees: Wendy Williams, Padma Lakshmi, and La La.
I loved how loud Jamie Clayton's striped dress was, and I can't hate on Javier Ceriani because he looks like Ke$ha. But yikes to Dr. Marci Bowers's shawl.