Print media may be dying in many places, but not in Israel. This week, the new Hebrew edition of Playboy hit the newsstands of the Holy Land; as the Times of Israel reported, the magazine's famous articles will now be read right to left for the first time.
The magazine features what the Times calls "local talent," starting with cover girl Nataly Dadon, and featuring a nearly entirely Israeli line-up of writers and models. In keeping with Playboy's much-hyped reputation for intellectual heft, the debut issue features an extended interview with Avi Dichter, the former head of the Shin Bet intelligence agency and one of the figures profiled in the Oscar-nominated documentary, The Gatekeepers.
"Our target is men who want a taste of the good life and also women who are curious about the tastes of the men in their lives," the magazine's American-born Israeli publisher, Daniel Pomerantz, told a Tuesday press conference. In a separate Times of Israel op-ed, Pomerantz waxes
lyrical: "a magazine as complex and beautiful as Playboy is the perfect fit for a country as complex and beautiful as Israel."
Part of that complexity is an increasingly nasty division between secular and religious society. The so-called ultra-Orthodox have begun enforcing Talibanesque modesty codes in some neighborhoods, even beating young women who show too much skin, while more moderate rabbis have called for a ban on female models in public advertisements. At the same time, some secular politicians, emboldened by slight gains in the recent elections, are demanding that the government do more to protect the rights of women in public spaces, as well as improve the dismal percentage of women in Israel's judiciary.
"The core values of the magazine are the core values of the country," aging Playboy founder Hugh Hefner said in a video message to guests at the Israeli launch party; "I'm proud to see Playboy Israel embark on its mission to play an important role in strengthening freedom of speech, freedom of choice and freedom of the press."
G/O Media may get a commission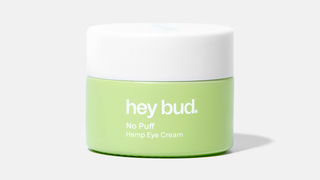 15% off
Hey Bud - No Puff Hemp Eye Cream
Hefner and Pomerantz may be right that Playboy is a perfect fit for Israel. The danger is that the huge press splash surrounding the launch will only inflame the religious right, without necessarily doing much to empower a besieged secular feminist left. If nothing else, it's a heartening sign of the enduring power of print media... and, according to its publisher, yet another opportunity for women to spend still more time thinking about what men want.
---
Jezebel columnist Hugo Schwyzer teaches history and gender studies at Pasadena City College and is a nationally-known speaker on sex, masculinity, body image and beauty culture. He also blogs at his eponymous site. Follow him on Twitter: @hugoschwyzer.