First Miley Cyrus spoke out about her pictures for Vanity Fair, saying she was "embarrassed." The famed photographer Annie Leibovitz defended her shoot, saying I'm sorry that my portrait of Miley has been misinterpreted... The photograph is a simple, classic portrait, shot with very little make-up, and I think it is very beautiful." Then, "sources" close to Miley's father Billy Ray Cyrus swore that Billy Ray left the shoot before the seemingly-topless pictures were taken and never would have allowed them. Next to chime in? Michael Roberts, the fashion and style director of Vanity Fair, who styled the shoot. "I'm European. I come from London, I lived in Paris, and I just find it extraordinary that this has been blown up like this," he tells WWD. "The whole kiddie porn prurient angle seems to be worryingly sour grapes from other magazines that didn't get a picture like this..." Oh, the "you're just jealous" argument. A classic!
Continues Roberts:
"Teenagers can be seen on TV and in the cinema in the most prurient ways, and then a photograph which is for all intents and purposes innocent is blown out of portion and condemned as some ridiculous apotheosis. It's a joke to me. But it's not a joke because I don't find it funny. I find it offensive. I'm deemed as being party to some kind of subversive picture of this girl, that she was cajoled. That we literally manhandled her into stripping is completely not true."
And guess what? Miley wasn't wearing a bedsheet, as so many of us assumed. "It's a duchess satin stole, Champagne, specially made," explains Roberts. (Meanwhile, The New York Times was forced to run a correction; their original headline, "A Topless Photo Threatens a Major Disney Franchise" was changed to "Revealing Photo Threatens a Major Disney Franchise," lest anyone think she was actually bare-breasted.)
On yesterday's post about about the Miley Cyrus/Annie Leibovitz photo shoot, a commenter argued: "Didn't Kate Moss pose topless when she was 15? Like - actually topless, not just with her back showing. Comparatively, this isn't all that shocking. It's just kind of pathetic." And yes, 19-year-old Kate Moss did pose topless. In fact, her first shoot for The Face magazine was a topless shoot. But Miley Cyrus is not Kate Moss. She is not a model. In fact, she is a subsidiary of squeaky-clean conglomerate Disney. She had a sold-out 70-date concert tour which grossed $36 million and generated $50 million in album sales and downloads. That doesn't include T-shirts, clothes, rain boots, etc. Money from the parents of her fans, who are children. It's no secret that it's tough to transition from child star to teen star (see Spears, Britney and Lohan, Lindsay; both formerly caught in the Mouse's trap.) Isn't a racy photo shoot on an ingenue's to-do list? But the most interesting thing is while the Miley kerfluffle prompted a response from photographer Annie Leibovitz, the Lebron James cover she shot for Vogue was met with silence from the photographer, even after its inspiration was discovered.
G/O Media may get a commission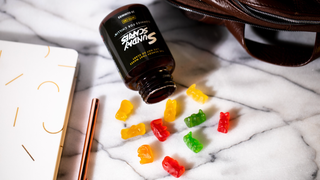 10mg CBD Gummies (22-Count)
Why does a not-naked fifteen-year-old garner more attention than a black man portrayed as an animal? Is subtle racism just not a big deal? Or is it that America loves Lolitas? Do we enjoy seeing our starlets young, pure, but on the verge of corruption? Hopefully with a lollipops in their mouths?
Annie Leibovitz Defends Hannah Montana Star Miley Cyrus's Vanity Fair Shoot [Telegraph]
Memo Pad [WWD]
The Latest Ingenue To-Do [Washington Post]
Sexualizing Miley: Are Billy Ray and Tish Cyrus Letting Her Be The New Lolita? [Huffington Post]
The Miley Cyrus Pics: Damage Control [Time]
New York Times Takes Back Miley Cyrus Headline: "She Was Not Topless" [Huffington Post]

Earlier: Miley Cyrus: Fifteen & Topless in Vanity Fair
Miley Cyrus Is Not The Innocent Victim That Disney Makes Her Out To Be
Is Vogue's "LeBron Kong" Cover Offensive?
MagHag