Every year, toymakers gather in New York City to showcase their latest wares. Sure, yes, many are quite spiffy. But there's always a few items that make me frankly afraid to walk into a Toys 'R Us.
Take, for instance, some of the toys featured on Bloomberg's list of the weirdest things they found at the fair. Your shopping options for Christmas 2015 will include the latest "Baby Alive" model, "Snackin Sara." She tells you when she's hungry; you feed her; she shits the snacks out; you feed her the snacks again when she demands them. I know baby dolls with bodily functions have been around for decades, but they just never get any less WTF—they only become higher tech. "Snackin Sara" will set you back $50. Also available: a board game called "Who Tooted?"
Then there's "Hello Barbie," which connects to the internet so Barbie can crack jokes to your daughter on demand. Also, she LEARNS. Anybody else envisioning a Talky Tina scenario?
Speaking of terrifying, something freaks me out about this bleached-white "super dinosaur" Jurassic World set from Lego, via The Verge. The tiny mammal part of my brain does not want. Also frightening: the price tag of $129. Alternatively, there's the two-wheeled, remote-controlled "Zoomer Dino" ($80), one step closer to our robo-future in which robots replace pets because our Smart Homes can't be bothered to clean the litterbox.
Oh, and let's not forget "Mr. Monopoly," who is definitely here to steal some souls:
G/O Media may get a commission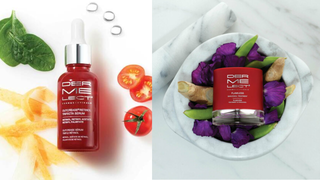 Save $19
Retinol Renewal Kit
But our pals at io9 found the most terrifying prospect of all. Scroll down to the last photo in this post and you'll see a giant advertisement for MINI MEGAPHONES FOR CHILDREN. My God, are America's toy companies run by sadists? (Having stepped on a Duplo block a time or two myself I can only conclude: Yes.)
Photos via AP.