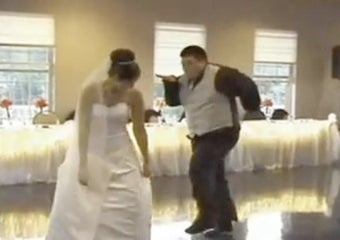 The recession has put a damper on the lavish, filled with one-upmanship weddings that swept through the country during the early part of this decade. But now a new trend has come along: the viral wedding video.
As Sadie mentioned yesterday, a Minnesota couple named Jill and Kevin saw their wacky aisle procession (a choreographed dance to Chris Brown's "Forever,") quickly go viral, earning them over a million hits on YouTube, as well as invitations to several high-profile morning news programs, including the Today show.
But Jill and Kevin aren't the first couple to see their wedding go viral: a couple posting a clip from their reception wherein the entire wedding party dances to Thriller has received over nine million hits since 2006, and a couple who surprised their guests by busting out a routine to "Baby Got Back" during their first dance has received over seven million hits since 2007. Yet another couple pulled a similar stunt in 2008, to Flo Rida's "Low." And of course, there are the other wacky wedding stunts, like the "light up wedding dress," and the evolution of a wedding dance, which have brought in tons of hits as well.
All of this makes me wonder if perhaps these elaborate wedding routines are being done for the friends and family of the bride and groom, or, perhaps, if they are being done specifically for viral video purposes. I'm inclined to think it's a little from Column A, a little from Column B: you get to have fun and entertain your friends in person, and then perhaps get a little internet celebrity out of it, to boot. In rough economic times, you may not be able to throw the glitziest wedding, but you can still make your way to the Today show just by posting a clip of your friends being goofy on your wedding day. I suspect we'll be seeing a lot of more of these videos over the next year or so, or at least until the next big wedding fad comes along, which could be refreshing or exhausting, depending on how many people decide to try to make their first dance an internet sensation.
Earlier: Moving, Awesome Wedding Dance Video Goes Wide On Web, Morning TV