Imagine the last person you'd ever want to see writing a sex and relationships blog for twenty-something women. Is that individual hook-up propagandist and befuddled old person Laura Sessions Stepp? Then it's your unlucky day.
The just-launched site SexReally is paid for by the non-partisan National Campaign to Prevent Teen Pregnancy, and presumably intended as a slightly older companion site to the Campaign's excellent StayTeen.
It's a fine idea to set up a site for 20-somethings that deals with topics in sexuality free from the stale moralizing of adolescent sex ed, a site that could serve as a forum for discussion of, say, the rising numbers of women in their twenties who use withdrawal as a contraceptive, why that might be, and what the risks and benefits are, or the difficulties posed by the fact that 20-something women are the least likely age cohort to have health insurance, or the fact that while teen pregnancy has decreased in recent years, the rate of unplanned pregnancies among women aged 20-29 is actually growing. What beggars belief is that anyone, let alone a non-profit group of sexuality educators, would think that Laura Sessions Stepp — a woman whose nuanced theory of human sexuality begins and ends with "Don't put out unless you're in a relationship, ladies!" — could do any such topics justice.
The first podcast for SexReally is titled "Starting a Relationship With Sex: Running the Bases Backwards," which should be a clue to lead blogger and podcast producer Sessions Stepp's position on the issue at hand — as if anyone should need the hint since the former Washington Post reporter's various condemnatory anecdotes about young women and sex were collected between hard covers in 2007's Unhooked: How Young Women Pursue Sex, Delay Love and Lose at Both. (In her book, Sessions Stepp advises against relationship-free sex, and encourages kitchen fun for singletons instead. "Bake cookies, brownies, muffins. Ask your girlfriends for assistance. Guys will do anything for homemade baked goods." Girls, if you only can make enough cookies, you too can snag a man!)
Among her many other eminent qualifications for talking to young women in a balanced way about sex, Sessions Stepp is a true believer of the oxytocin junk science, a chief proponent of the late-90s teen oral sex moral panic — her reporting was flatly contradicted by actual statistics about young people's rates of oral sex — and it took her until 2006 to figure out what a "wingman" was. She also originated the term "gray rape."
G/O Media may get a commission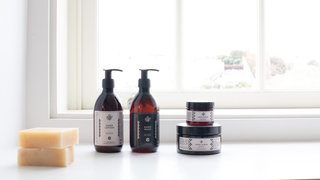 Exfoliate and Hydrate
The Handmade Soap Company
So it's really no surprise that in her inaugural podcast, Sessions Stepp, in a stilted, motherly voice, marvels at the fact that grown adults no longer find the "bases" metaphor meaningful or informative. Her own all-caps transcript of the segment reads:
WE'VE ALL HEARD THE BASEBALL METAPHORS FOR SEX, LIKE "MADE IT TO SECOND," OR "HIT A HOME RUN." YEARS AGO, AS A GIRL RAN THE BASES, SHE ANTICIPATED A CERTAIN PROGRESSION IN THE RELATIONSHIP. (AT LEAST, SOME GIRLS DID.) GUYS MIGHT TRY TO SKIP A BASE OR TWO AND IT WAS UP TO HER TO FOIL THEIR OFTEN-CLUMSY ATTEMPTS.

WELL, THAT SCENARIO IS NOT SO COMMON ANYMORE… THESE DAYS, SEX FREQUENTLY HAPPENS BEFORE ANYTHING RESEMBLING A RELATIONSHIP. IS THIS A GOOD THING? A BAD THING?
I'll give you one guess!
Sessions Stepp talks to "Amanda", a woman from Los Angeles who, on her second date with a dude, and without — "No, no, no, no. Definitely, not!" — boyfriending him or taking any sensible precautions against oxytocin at all, had sex. The little minx invited him over for a movie and then within the hour they were doing the dirty! The fact that Amanda and her partner saw no harm in this reckless act — in fact, they subsequently did decide to date, and are, shockingly, still together — clearly marks them as either dangerously delusional or extraordinarily lucky, because as everyone Laura Sessions Stepp knows, every single hook-up makes the Baby Jesus cry irrevocably corrodes your own capacity for future love and happiness. As she explains:
SOME YOUNG WOMEN, LIKE AMANDA, ARE LUCKY. THEIR HOOKUP BUDDIES BECOME THEIR HONEYS. BUT IT DOESN'T ALWAYS WORK OUT THAT WAY...ONE PROBLEM WITH TAKING OFF FROM HOME BASE IS THIS: IF YOU START TO FEEL ATTACHED, YOU MAY NOT KNOW YOUR PARTNER WELL ENOUGH TO TELL HIM THAT. YOU'RE AFRAID YOU'LL SCARE HIM AWAY IF YOU BRING UP THAT DREADED WORD "FEELINGS". SO YOU SAY NOTHING…. WHICH CAN MAKE YOU FEEL…JUST BAD — ABOUT YOURSELF, YOUR PARTNER AND EVEN THE SEX.
Of course, even the college sophomore Sessions Stepp finds who had a disappointing hook-up experience — she grew to resent the guy following her realization that she felt more strongly about him than he did about her — still prefaced her criticisms with the phrase, "As much as I don't regret having sex with him..."
Statements like Sessions Stepp's play host to a whole set of nested assumptions, most of which are dated and restrictive. (Some of which are just dated. Who under the age of 40 calls their [in]significant other their "honey"?) In the system of sexuality that Sessions Stepp seems to favor — the slow, steady, codified "running of the bases" within a relationship — women are always the sexual gatekeepers. This stance neatly sidesteps any notion of men's responsibility for, well, anything. In Sessions Stepp's view, women trade sex begrudgingly in return for access to the socially-protected role of "girlfriend" and the supposed privileges that come with it. Women who enjoy having sex with casual partners, who don't feel the need to explore their serious, long-term prospects with every guy they date, or to only date guys with whom they feel they might have serious, long-term prospects, women who initiate sex and claim to like it, are just fooling themselves. Worse — they're actually hurting themselves. Because nobody can make an easy transition from having a lot of casual sex at one point in her life in one set of circumstances, to enjoying a more serious relationship at a different point in her life and under a different set of circumstances. It's just not possible! It's because of oxytocin, or something.
Strangest of all is the belief that underlies this and all the rest of Laura Sessions Stepp's work. She argues against casual sex — at least for women — so assiduously on the grounds that it hurts us. That it diminishes our self-esteem and numbs us to real love. But since when is a relationship any prophylactic against heartbreak? No hook-up, no cumulative accounting of a lifetime of hook-ups, will ever hurt as much as a break-up with a partner you love more than anything in this world. Young women know this about relationships. That's probably one reason why we sometimes prefer not to engage in them.
More stories about birth control costs, abortion access, finding a doctor willing to fit you with an IUD even if you haven't had kids, and finagling decent care in our under-insured society would be a lot more welcome — and more useful — than just more of the moralistic same from the likes of Laura Sessions Stepp.
SexReally [SexReally]
StayTeen [StayTeen]
National Campaign To Prevent Teen Pregnancy [NCPT]
The Challenge in Helping Young Adults Better Manage Their Reproductive Lives [Guttmacher Institute]
Does Withdrawal Deserve Another Look? [Guttmacher Institute]
A Disconnect On Hooking Up [NY Times]
Moral Panic Comes 'Unhooked' [Campus Progress]
PERCEPTION THAT TEENS FREQUENTLY SUBSTITUTE ORAL SEX FOR INTERCOURSE A MYTH [Guttmacher Institute]
A Bud For The Ladies [WaPo]
Earlier: Cosmo Wonders: Is It Rape If You Had Too Many Jaeger Shots To Remember?