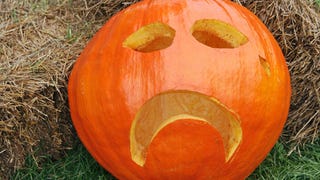 With millions of people still without electricity, parents in the areas affected by Sandy are wondering if the plug has been pulled on Halloween. Is that even possible? New Jersey governor Chris Christie seems to think so. He posted on Twitter:
If conditions are not safe on Wednesday for Trick or Treating, I will sign an Executive Order rescheduling #Halloween.
It makes sense that towns-especially those that were hit really hard-in New Jersey, Pennsylvania, and Connecticut would agree on a "rain date" for handing out candy, as many have (moving the date to either Friday, November 2 or Saturday November 3) and that events like parades in Greenwich Village Halloween and Park Slope and the Halloween editions of Today and GMA were cancelled. But an "Executive Order"? Can you actually legislate celebrations that aren't national holidays? Someone wouldn't just reschedule Christmas. Sure, Halloween isn't exactly a religious event (unless you're like a goth teenage witch, in which case, Happy Holidays!) but shouldn't the government stay out of it? It's an optional event anyway, based on mischief and murder? What's with all the rules all of a sudden?
Some areas have encouraged people to go trick-or-treating indoors at local malls. But it's a beautiful, sunny day out in New York, so it's up to parents to decide if they want to take their children around the town. Whatever the case it's a great way to restock on rations.