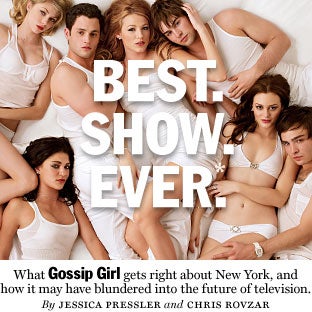 The new issue of New York magazine has an excellent, in-depth, exhaustive story about the TV phenomenon known as Gossip Girl. Jessica Pressler & Chris Rovzar pronounce the show "genius," and they have their reasons. From Helen of Troy to Sixteen Candles to My So-Called Life and Beverly Hills, 90210, teen drama has always been a genre that thrives. But, explain Pressler and Rovzar, although GG has archetypal characters, the way the story is presented is thoroughly modern. The show is about a blog; it's almost more popular to stream episodes online than it is to watch them on TV; the characters wield camera phones; the parents are as screwed up as the kids (one dad is on coke) and there are absolutely no consequences for anyone's actions.


But it's deeper than that. Because the gossip about Gossip Girl is just as interesting as the show: Blake Lively and Penn Badgley play boyfriend and girlfriend on the show, and might be dating in real life! Blake Lively and Leighton Meester play frenemies on the show, and might kind of hate each other in real life! Hotties Chace Crawford and Ed Westwick (Nate and Chuck, respectively) are roommates in real life. But the truth is that the show could be even better — if it stuck closer to the books.
Cecily von Ziegesar, who attended Manhattan's Nightingale-Bamford, a top-ranked private school in New York (Charlotte Ronson went there) has written twelve Gossip Girl books, and, as amazing as the show is, some of the choices Josh Schwartz of The O.C. made in bringing the story to the screen must be questioned. For instance: In the books, the character of Dan Humphrey is an underdog, a poet, a disheveled thinker...an awkward intellectual who doesn't hang with the cool kids. A "nerd". Which makes the fact that he has a relationship with pretty, rich, popular, mysterious, not-a-virgin Serena all kinds of amazing. Who doesn't love it when the underdog scores? (Think of Anthony Michael Hall and the prom queen in Sixteen Candles.) Unfortunately, TV Dan is chiseled and dapper. How can he be an underdog with that confident jawline? (Not to mention that TV Serena is no where near as flighty, carefree or impulsive as Book Serena). In addition, Book Vanessa (Dan's other love interest) — who has a shaved head, wears combat boots and makes short films about how vapid her rich classmates are — is an endlessly more entertaining character than TV Vanessa, who has yet to be interesting at all. And Book Jenny — Dan's younger sister — who has enormous breasts at a young age, the whole reason she catches the eye of older guys like Chuck and Nate — tackles the very real teen issue, of being sexualized too soon, of having your physical and mental states feel out of sync. TV Jenny doesn't get to explore that avenue.
Sure, it's tricky to adapt books for the screen. Hollywood is notorious for making such big changes that the original characters are unrecognizable (See: Breakfast At Tiffany's). But Gossip Girl's strength is in its true-to-life aspects. Despite all the money and freedom the characters on the show (and in the book) have, they still suffer the same teenage angst, the "the delectable tangle of jealousy, loyalty, confusion," as Pressler and Rovzar call it, that we're all familiar with. In a world with fauxmances and pseudo-scripted drama (The Hills), producers of Gossip Girl have a chance to keep it real. If only they would!
The Genius of Gossip Girl [New York]