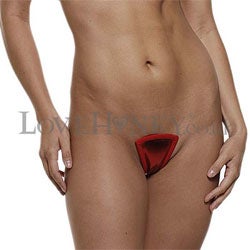 Thanks to the prudes at Fashionista for pawning this one off on us and in the process introducing us to Sex Toys TV, which is like QVC for infidels. You know what we love even more than the inventors always devising new ways to cure the panty lines of women who buy their see-thru garments a few sizes too small? What Fabsugar had to say about it:
At the front it looks like a normal sexy underwear and to the rear it has a thong-style strip.
Wait, so "normal sexy underwear" is roughly the size, manufactured to scale, of the little red stars or hearts that cheap porn magazine covers use to block crotches and nipples? We need to get out more.
Simply Fab: C-String Invisible Underwear [Fabsugar]