Occasionally you stumble across something so great and inspiring that you struggle to find the words to aptly describe its awesomeness. Somewhat paradoxically, words happen to be at the centre of an inspired campaign that helps survivors of sexual abuse take back the power of phrases that were once used against them.
Grace Brown, a 19-year-old freshman at The School of Visual Arts in New York, came up with the idea in October after a friend confessed that she had experienced sexual assault. It wasn't the first time that someone had disclosed this to her. Going to bed that night she thought about what she could do to help her friend and others like her come to terms with what had happened, and by morning Project Unbreakable was born. Brown asks participants to write words that their attackers used on a piece of cardboard, and photographs them with the aim of diffusing the strength of the words and aid in the healing process.
"It's not something that you really think about. A survivor can tell their story of abuse to someone but the words are never really said," she said. "They bury themselves in a pit in their stomach and then it's forgotten about. You realise this is something a human said to another human; it's very important that they not hold onto those words because they are incredibly powerful."
Evolving from an idea into something of a movement in five short months, survivors from around the world are able to upload their own photographs to the website in addition to the subjects that Brown shoots in person. What's especially amazing is the amount of people who are willing to show their faces, considering the unwarranted shame often associated with abuse. Though she had reservations about taking part at all – let alone showing her face – one of the subjects, Ashley Ray, says she decided to get involved after seeing the bravery of others and the freedom they seem to have found.
"Taking the picture was like ripping off a band-aid. I barely even remember it. Afterwards I felt emotionally drained but there was a weight lifted off of me," she said. "I had a panic attack the first time I saw my picture in print. But after working through that, I'm in a place where I can feel proud to be part of something that has healed me and is healing others. I'm truly grateful every time I see that picture. It's a piece of me that is no longer hiding in shame and guilt. It's a beautiful scar."
G/O Media may get a commission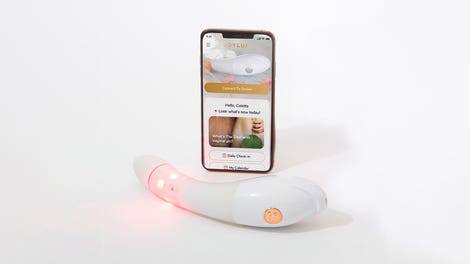 $50 Off
Joylux vFit Gold Device
To take part, and/or donate to the project, visit the site for more info.
Project Unbreakable: From Victim To Victor* [SMH]
*Disclosure: I also wrote the Sydney Morning Herald Article on which this item is based.