So guess what? That thing about the sorority that brands its sisters in the groin with a scalding fork turns out to be quite possibly true. I just called Elyse Eisen — the Hofstra alumna who, yesterday, emailed fellow Phi Epsilon alumni in response to a report in the New York Post containing the allegations of a de-pledged sorority sister who claimed the sorority was a violent cult — and I asked her, point blank, whether it was true that her sorority brands its sisters with a three-pronged fork to represent their three "values", as we had been hearing. (Because, you know, it seemed like a bizarre claim to me, and although I knew branding was popular with African American fraternities such a practice would not seem to carry the co-opted symbolism with a bunch of suburban white chicks at school in Long Island.) And then I began receiving emails (including but not limited to this one) from Hofstra alums; emails that lent context and credibility to the emails and that claimed that the sorority had gone so far as to make its symbol a cow — a reference to the branding practice. I mentioned all this — paraphrased of course — to Elyse, dear readers. And she said: "No comment."
"No comment?" Okay then!
Reportorial duties thus totally completed, I guess I can share with you a little of what our sources are telling us about Phi Epsilon. It is, it seems, something of an anomaly at Hofstra: a "local" sorority governed by no national or academic body and with relatively low dues payable on a financial aid recipient budget; a sorority known for being "scrappy" on a campus more often associated with a word that rhymes with "scrappy" and that also conjures luxury goods and blow-outs. To its credit, Phi Epsilon purportedly celebrates diversity among its members, but that diversity yields a certain amount of "brutish" behavior. "It's not like a bunch of Prada bag toting idiots doing this," one said. According to our sources, who requested anonymity for fear of retribution, Phi Ep has a reputation for being particularly cruel throughout the hazing process; at the "Sister Dinner" referenced in yesterday's email, it is apparently common practice to order recruits to prepare an elaborate meal for their new community only to have it thrown in their faces. Girls who drop out of the process are harassed and mocked in public.
But the best part is their unique — and shockingly literal — approach to the the proverbial "Hell Night" celebrated by Greek Organizations across the land. On Hell Night, sisters are rumored to actually dig their own graves. They then spend the night in coffins. In the morning, they are "reborn as Phi Ep."
List of Social Fraternities And Sororities [Wikipedia] (Phi Epsilon is on there.)

Police Report Of Fight At Nacho Mamas [Hofstra Chronicle]

LI Co-Ed: Sorority A Hell House [NY Post]

G/O Media may get a commission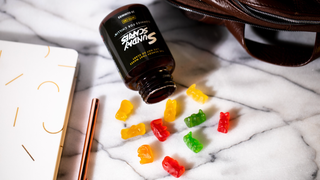 10mg CBD Gummies (22-Count)


Earlier: Would You Believe A Sorority Brands Pledges In The Groin With A Hot Fork?