In the mid 1980s, Janet Jackson emerged as a symbol of young black feminism who would go on to shape two, or three, generations; her bewitching blend of self assuredness and sexuality in pop proved so salient that today, 30 years after Control was released, young artists like Tinashe are still sampling its b-sides.
Janet's Control was a statement, if not so explicit, about trying to wiggle out from under the thumb of the most domineering man in her life: Joe Jackson. In a January 1987 issue of Spin, writer JC Stevenson reported deeper on that phenomenon under the headline "Damn It, Janet: Janet Jackson declares her freedom on her aggressive breakthrough album. But a battle for power rages around this cool young woman's career." Stevenson writes:
The last year has been an extended battle of control of Janet: the wily, shrewd, tough Joe Jackson is aligned against the smooth, young-market-oriented A&M Records executive John McClain, who is given a great share of the credit for Janet's breakthrough. Each of these forces is out to depose the other. At times during the making of Control, the struggle generated such bitterness that the two were barely speaking. According to McClain, Jackson didn't want Janet to record with the powerhouse writing/producing team of Jimmy Jam & Terry Lewis, never heard the album until it was completed, didn't like the finished product when he first heard it, and didn't think it would sell.
The album, as we now know, very much sold, and a major part of why it fared astronomically better than Jackson's first two albums is because of the decision—all Janet's—to work with Jam & Lewis, a collaboration which continues today.
G/O Media may get a commission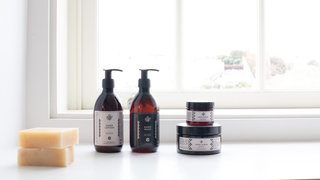 Exfoliate and Hydrate
The Handmade Soap Company
It's a familiar narrative for every Jackson: Joe was a demanding and, we would later learn, abusive father/manager who allegedly mis-managed their every move. But it stings a little more in context of Janet, who was not yet 20 years old when Control was released on February 4, 1986. The defiance of a young woman contending with her adulthood resonated far deeper than just on the title track, where she sang that she "did what my father said, and let my mother mold me." She wasn't taking half-steppers, from the boyfriend ultimatum "What Have You Done for Me Lately" to the attentive-man appreciation "When I Think of You"; on "Nasty," she essentially told a gaggle of dudes they ain't shit, end of story. Address Miss Jackson with respect.
So reading Spin's report, which includes a moment during which Joe Jackson "tries to take hold of [the writer's] notes to read what I intend to ask him," is unsettling, particularly considering how the controlling-parent tale has carried through the years to Beyoncé, Leann Rimes, Lindsay Lohan, and others. But these young women eventually find their own way and assert their independence, and the Spin piece tells a similar story. It's a delight to read about how Janet Jackson, then just 20, drove "like a bat out of hell," how she looked up to her sisters, how she had Archie Bell and Booker T in the tape deck. "When I listen to ['Control']," she told Spin at the time, "I hear someone who is very cocky, bold, straightforward, assertive."
Jackson fired her father as her manager shortly after the "Control" video was cut—which, as producer Sharon Oreck put it in the book I Want My MTV, was a disaster:
Janet was splitting with her father, Joe, as her manager, and he was angry and taking it out on everyone. In the video, Janet was supposed to sit on a trapeze. Joe said if I put her on that trapeze, I had to take out $1 million of insurance on her. I went to the record company and they're like, 'Don't tell Joe Jackson anything, but don't tell him no, either. We don't say no to Joe Jackson.' So I didn't tell him anything, and he threatened to kill me or maybe break my legs, it was something bad. Mary Lambert went to the record company and said, 'We're both quitting unless you tell Joe Jackson you're covering the insurance.'"
Thirty years on, that time can seem a bit far away, particularly when we're talking about an era in which MTV had only recently begun playing videos by black artists. Oreck detailed the record label instructing Janet at the "Control" shoot to tell the handful of white people in the crowd (a "screaming throng of mostly black and Hispanic teenagers," as Spin put it) to "move to the front" for the video. Optics. But ultimately, what helped Jackson become so successful in a mainstream pop world then just beginning to open up to black woman icons was her total embrace of her agency, her comfort in herself. "To be honest, I didn't know all that was in me," she told Spin in '87. "I wanted this album to be my success, not my family's."

---
Contact the author at julianne@jezebel.com.
Janet Jackson, 1987. Image via AP