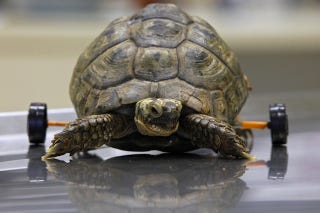 A turtle in Israel and a goose in England were both crippled by unfortunate accidents. Now, thanks to creative veterinarians, the goose is sporting a beak made out of fiberglass and the turtle is rolling around on wheels.
About two months ago, Tzvika, a female turtle, was run over by a lawn mower and suffered damage to her shell and spinal cord. She was unable to move her hind legs, so veterinarians at the Wildlife Hospital in the Ramat Gan Safari near Tel Aviv attached wheels to her shell to enable her to walk. In this photo taken yesterday, she's shown happily rolling across the floor.
Garcia, a goose living at the Happy Endings Animal Rescue Sanctuary in Hailsham, England, broke off the top of her beak after getting caught in a fence. Since she couldn't fed for herself, she would usually be put down, but instead veterinarians made her a new beak out of fiberglass and wires. Her nose is expected to grow back in 12 to 18 months and push off the prosthetic, which cost about $270. Happy Endings founder Terry Kemp told The Daily Mail, "Celebrity nose jobs cost thousands of pounds so I think £175 was very good value — it was worth every single penny to save Garcia's life."

Garcia The Goose Gets A Nose Job! Vets Make Fibreglass Beak After Freak Accident [Daily Mail]
Cute Little InjuredTurtle Now Has Wheels: "They See Me Rollin, They Hatin" [Boing Boing]