Quentin Tarantino's already complaining that Inglourious Basterds is misunderstood. And I may be misunderstanding the bizarre clothes at its Grauman's Chinese Theatre premiere. (But I don't think so.)
Angelina Jolie channels Lara Croft - or Megan Fox - and it looks really uncomfortable in all kinds of ways. Not that, as her PR flacks would remind us EVERYONE IN THE WORLD DOESN'T STILL WANT TO SLEEP WITH HER STRAIGHT MEN GAY MEN LESBIANS STRAIGHT WOMEN BOW DOWN!



Yeah, everyone kinda misses the Buffalo 66 look. But there's something to be said for Christina Ricci just embracing Blythe Doll.



G/O Media may get a commission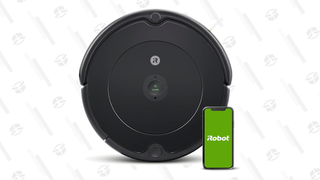 35% Off Black Friday Deal
iRobot Roomba 694 Robot Vacuum
I'm sure we've seen this dress before (yay!), but - maybe because of her loyalty to former employer Kaiser Karl - when I picture Diane Kruger it's always in something like this: feather-embellished and fuzzy and haute.



Okay, I don't think Jenna Fischer's Grecian is the most flattering on her, although if she'd worked in a more structured fabric, it could have succeeded. Sometimes it seems like, instead of angels and devils, she's got a little "dowdy monster" on her shoulder whispering bad fashion advice.



Okay, so, I always love me some slightly-mature Valley of the Dolls, and Carla Gugino's rocking it. You will notice I am making no objection to the grape hue. I am working on it. I even - get this - just got a vintage bike with a carriage the color of Beaujolais Nouveau. It's called "The Sophisticate." And since my nom de guerre is "the petite sophisticate," it's like the universe was telling me that it was time to put aside my purple issues and move on.



I'm actually very interested to see what happens when Maria Menounos lifts her arms: does it suddenly skew poncho? Skirt? Or mini?



Do I love this corset action? No. Does it feel a little "romanticized bordello?" Yes. Does Melanie Laurent look stunning? You betcha.



See, I think I could like Jessica Lowndes' frock if my eye weren't distracted by her equally shiny accessories - which I just want to pick up in my beak and hoard in my nest.



Sue me. I love Bridget Fonda's 50's bohemian. You just know she cooks with garlic and likes folk music.


Getty" />