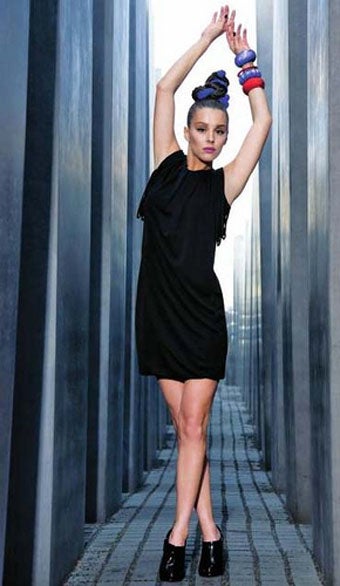 EasyJet has apologized for a fashion shoot at the Berlin Holocaust Memorial that appeared in their inflight magazine. So much for all that academic handwringing about the aestheticization of the Holocaust.
The magazine didn't have permission to shoot at the Memorial, but apparently it wasn't hard to sneak by security. In its apology, first reported in Britain's The New Statesman, easyJet said,
"The magazine is produced by INK — an external publishing house, and easyJet were not aware of the images until they appeared in print. As a consequence we are now reviewing our relationship with the publisher and are withdrawing this month's issue from all flights."

"easyJet prides itself on bringing together a wide range of cultures and beliefs and is appalled by this insensitive and inconsiderate photo-shoot, the aim of which was to highlight some of Berlin's iconic landmarks and certainly no offence was meant."
No word on who the photographer and stylist on the shoot were. We called over to INK Publishing's Brooklyn offices asking for more info and were referred to their London headquarters. We'll update when we hear back.
easyJet Grounds In-Flight Magazine After Holocaust Gaffe [The New Statesman, via The Awl]