Every year, Beloit College releases its "Mindset List" to give us a glimpse into the mindset of excited incoming college freshmen remind us that life is fleeting and soon we will all be dead.
The majority of students entering college for the first time this fall were born in 1994, which is unacceptable.
Some of the most disturbing "Mindset List" bullet points involve celebrities, such as:
"Selena's fans have always been in mourning." (SO SAD.)
"Benjamin Braddock, having given up both a career in plastics and a relationship with Mrs. Robinson, could be their grandfather."
"Robert De Niro is thought of as Greg Focker's long-suffering father-in-law, not as Vito Corleone or Jimmy Conway."
Some are good for feminism:
"On TV and in films, the ditzy dumb blonde female generally has been replaced by a couple of dumb and dumber males."
"For most of their lives, maintaining relations between the U.S. and the rest of the world has been a woman's job in the State Department."
"Women have always piloted war planes and space shuttles."
And some don't really make any sense:
"They have never seen an airplane 'ticket.'"

Lies! They still make you print out boarding passes.
"Having made the acquaintance of Furby at an early age, they have expected their toy friends to do ever more unpredictable things."
G/O Media may get a commission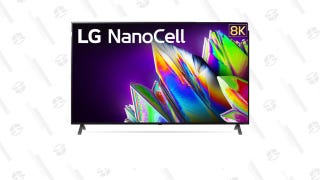 LG 75-Inch 8K TV

No one likes Furbys. This is a fact. My younger brother, who is a few years older than this age group, used to cry hysterically whenever his went off by accident.
"There have always been blue M&Ms, but no tan ones.
WHAT.
Beloit College's Mindset List for Class of 2016 [AP]
Image via Anatoliy SamaraShutterstock.