It's the season of social conservatives saying exactly what they intend for women! Thanks for dispensing with the subtext, guys.
This time, it's on the local level. The Frederick County, Maryland board of country commissioners, cutting funding for Head Start by fifty percent. The rationale? We shouldn't be providing daycare to low-income families, we should be supporting marriage. Contrast, if you will, this video with that of Representatives Speier and Lee. Yes, a spouse staying home affects both men and women, though neither of these guys appear to have considered the option at some point for themselves.
This is no exaggeration of their positions. In their own words, per Think Progress:
I think its very significant that we did make this marriage week announcement today, because that is the best long-term way to help our children, as marriage is strengthened in our community. As many of you know, I had a lot of kids, and my wife stayed home, at significant sacrifice, during those early years, because she knew she had to be with those kids at that critical age. I know everybody isn't able to survive doing that, but clearly, as we can strengthen marriage we can decrease the children that we have to reach.
G/O Media may get a commission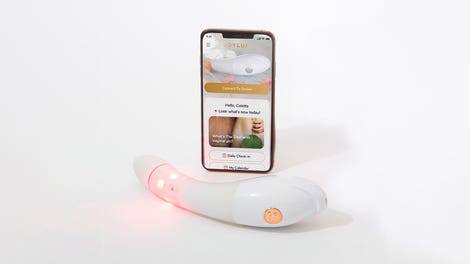 $50 Off
Joylux vFit Gold Device
Then there is some blathering about private-sector churches. Followed by a gentleman who gave up a lot, so why can't you?
My wife, college educated, could go out and get a very good job. She gave that up for 18 years so she could stay home with our kids, we had to give up a lot to do that. I agree again with Commissioner Smith, you know, the marriage thing is very important. I mean, education of your kids starts at home, okay? I never relied on anyone else to guarantee the education of my kids.
It's already rather blatant, but here's an even more honest translation: To those whose salary requires both parents working to provide for their kids, to single parents, to anyone trying to get to a point where they can "guarantee the education" of their kids or those unable to do so—Go fuck yourself. And please, have as many babies while you're at it. Just don't ask us to help you out of poverty.
As Katha Pollitt recently put it in The Nation, "Inconveniently, though, the poor and near poor, whom we don't care about, come attached to children, for whom we supposedly have some concern. So how are the kids doing?" Here's a breakdown:
One in five families is food-insecure, i.e., they don't have enough food for everyone in the family at least some of the time. Health? Poor children are far more at risk than better-off kids: from secondhand smoke (32 percent vs. 12 percent of nonpoor children), low or moderate levels of lead in their blood (30 percent vs. 15 percent), lack of health insurance (16 percent vs. 8 percent) and lack of dental care (18 percent of poor kids hadn't seen a dentist in the past year vs. 11 percent of nonpoor children, which is bad enough). Poor children are more likely to have asthma (18 percent vs. 13 percent). They are more likely to have missed five or more days of school for health-related reasons (20 percent vs. 15 percent). Twice as many poor parents report that their child has "definite or severe" emotional, behavioral or social problems (10 percent vs. 5 percent). Poor kids are also more likely to be obese, to get insufficient exercise, to be diagnosed with ADHD or other learning disabilities and to have mothers who are in poor health themselves.
But if only we were strengthening marriage!
Republican Officials Cut Head Start Funding, Saying Women Should Be Married And Home With Kids [Think Progress]
It Takes A Village, Not A Tiger [The Nation]