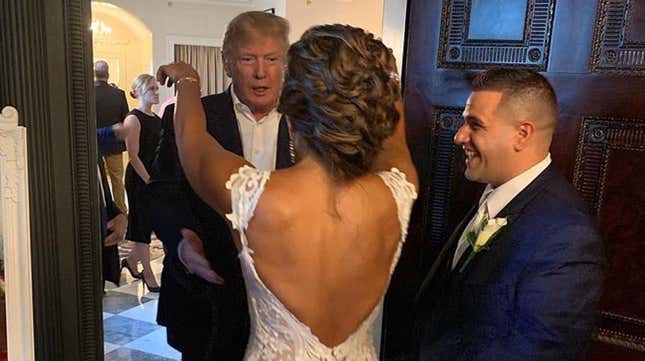 TMZ broke the news this morning that Donald Trump took a stroll through a "MAGA-themed" wedding at the Trump National Golf Club in Bedminster, New Jersey Saturday night. Footage from the event, which rapidly populated Instagram this morning, has the president kissing the bride while a cheer of "USA! USA! USA!" fills the room. Totally fun and normal!

Taylor Lautner Doesn't Even Remember Saying 'Bella! Where the Hell Have You Been Loca?'
A delightful shot taken from the side shows the couple pumping their fists like rockstars as the Secret Service encircle the president, many struggling to document their brief encounter with a meager selfie.
Trump also paid a visit to the family of the newly married racists, where he casually remarks of the groom, "Look at his shoulders!" The bride's dad is heard screaming "I'm the father! I'm the father!" while her mother remarks, "We're all from Staten Island." It's a chilling scene, made worse by timing: a weekend of children suffering in border camps while the president fires off another racist tirade against four congresswomen willing to stand up against him. If they truly wanted to complete the thematic messaging of their wedding, a guillotine would have been prominently displayed at the entrance of the venue!
After viewing the above footage, I'm now haunted by the reflection of a small girl clutching an oversized sippy cup seen in the mirror as Trump stands nearby. Spooky!
It's also interesting to note that the couple, PJ Mongelli and Nicole Marie, have Facebook profiles littered with selfies involving the president amidst crowds of red hats. They were engaged at the golf club in 2017, and allegedly sent "multiple invitations" to the president to attend their wedding.
I do wonder, will MAGA-weddings age the way cap-sleeved wedding dresses did after the '80s?