Last night, both Chris Brown and Rihanna sat down for separate interviews—Brown with Sway of MTV and Rihanna with Diane Sawyer on ABC's20/20—to discuss domestic violence, Brown's assault, and their hopes for the future. Clips after the jump.
In the first part of Sawyer's interview with Rihanna, the singer admits that she and Brown "fell really fast" in love and that "the more in love we became, the more dangerous we became for each other. Equally as dangerous…because, it was a bit of an obsession." The picture of Rihanna's battered face is shown; Rihanna admits that she feels "embarrassed, angry, and humiliated" every time she sees it.

Brown, meanwhile, says he doesn't know what he was thinking when the attack occurred, and he consistently speaks of the future and "moving past this." He claims that he wants to turn the situation into something positive and to "become the kind of person" he wants to be. He also claims to be "confused" about the public perception. "I mean, I'm human," he explains, saying it hurts when people say negative things about him. He actually seems surprised that people are calling him a "woman beater" and telling him they don't like him. When he apologizes publicly, he says, it's for the fans…and the sponsors.



Sawyer then asked Rihanna if Brown had hit her before that now-infamous night; Rihanna's answer is a bit disturbing, as she admits that yes, Brown shoved her into a wall, but she downplays the act, noting "It wasn't a fight." She also admits that her mother was beaten often by her father. "Domestic violence is not something that people want anybody to know, so, she would just hide it in the house," Rihanna explains, before admitting that she "always said" she'd never date anyone like her father. She also explains why she felt the need to protect Brown after the media explosion, why she temporarily went back to him, and why she eventually left, stating that when she "realized that my selfish decision for love could result into some girl getting killed…I could not, I could not be easy with that part. I couldn't be held responsible for telling them 'go back.' Chris—even if Chris never hit me again—who's to say that their boyfriends won't? Who's to say that they won't kill these girls? These are, these are young girls. I cannot—I just didn't realize how much of an impact I had on these girls' lives until that happen. That was a wake-up call. That was a wake-up call for me, big time."



Brown says that "anger" triggered him to beat Rihanna, and that he's come to terms with what he's done. "I don't want to be that person," he says. He claims that he "enjoys" his domestic violence classes and that he's learning about making better choices and controlling his anger. "It actually helps you go into dissecting what went wrong," he says.





G/O Media may get a commission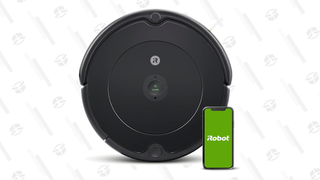 35% Off Black Friday Deal
iRobot Roomba 694 Robot Vacuum
After noting that he's received support from several celebrities, Brown notes that his classes have put his "head into perspective and put my head on straight about who I am as a man and who I'm gonna be." Brown's answers are all the same; he's constantly repeating the same sentence, with the words flipped. He focuses everything on himself and his career (he rarely even mentions Rihanna's name) and seems to want to spin things toward the public's inability to forgive him, as if the real tragedy at this point is that people won't move on, even though he has. He fails to recognize, I suppose, that he does not get to decide how the public feels about him at this point, and this actions have consequences that he's still going to have to deal with, whether he wants to or not.



Rihanna claims that she's never listened to the apology song Brown wrote for her, and that Brown's apologies sound like "he's been reading off of a teleprompter." She ends by stating, "I am strong. This happened to me. I didn't cause this. I didn't do it. This happened to me, and it can happen to anybody. And I'm glad it happened to me, 'cause now I can help young girls who are going through it. Don't react off of love. Eff love. Come out of the situation and look at it third-person and for what it really is and then make a decision, because love is so blind."