A trans woman says that when she was arrested for a minor subway violation, NYPD officers belittled her, called her names, asked about her genitals — and kept her chained to a fence for 28 hours. Now she's suing. And it turns out she's far from alone.
In her lawsuit, Temmie Breslauer says she was arrested on January 12 in a subway station for illegally using her dad's discount fare card (only seniors and people with disabilities can get these). She says the arresting officers — the suit names one, Officer Shah — laughed at her. When they took her to the station, a desk sergeant asked her "whether she had a penis or a vagina." Breslauer explained that she was in transition. Then, instead of putting her with female inmates or in her own room, the department allegedly chose this course of action:
[S]he was fingerprinted, seated on a bench, then painfully chained to a fence wherein, for no apparent reason, her arm was lifted over her head and attached to the fence to make it appear that she was raising her hand in the classroom. She sat there in that position for 28 hours.
She also says officers not only refused to call her "she," they instead referred to her as "He-She", "Faggot," and "Lady GaGa," and asked her "So you like to suck dick? Or what?" Meanwhile, people arrested for the same minor crime (misdemeanor "theft of services") she was were calmly processed and allowed to leave. Finally, she was able to go before a judge, who gave her two days of community service. She says the whole ordeal aggravated her existing PTSD and left her sleepless and suicidal.
Breslauer's suit names the City of New York, Officer Shah, and several other officers as defendants. It accuses them of assault, battery, false imprisonment, and violation of Breslauer's civil rights, and asks for compensatory and punitive damages. And this isn't the first time the NYPD has been accused of mocking and abusing a trans person. In October, Justin Adkins, director of the Multicultural Center at Williams College, was arrested for protesting on the Brooklyn Bridge as part of Occupy Wall Street. At The Bilerico Project, he reports almost exactly the same treatment that Breslauer got. When a male officer found out Adkins was trans, he asked Adkins what he "had down there." Then, at the the station, this happened:
They had me sit down in a chair next to the filthy toilet, and handcuffed my right wrist to a metal handrail.

Why was I segregated from all of the other protestors? Perhaps the answer lay in the fact that police officers were coming by to ogle me, and were laughing and giggling at me through a window. It was obvious that prisoners were rarely handcuffed to a railing in this manner, because a number of officers asked a female officer why I was handcuffed to the railing. She told them something, I couldn't hear what, but then, on each of these occasions, they would laugh and giggle while looking at me pointedly.
G/O Media may get a commission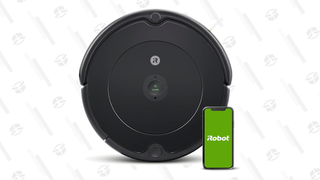 35% Off Black Friday Deal
iRobot Roomba 694 Robot Vacuum
Adkins was chained up for eight hours, sometimes with his arm twisted painfully behind him, before he was finally released. When I reached Adkins by email, he told me, "I have been in touch with the Internal Affairs Department of the NYPD and they are investigating the officers I encountered on October 1st." However, "No one has apologized to me for the treatment I encountered." Adkins also mentioned that he was working on "encouraging the NYPD to adopt a protocol and start a full education program for its officers and staff on how to treat transgender detainees." The department currently has no official procedure for arresting or holding trans people. And Adkins isn't the first to ask for one. A list of demands issued to the NYPD in 2009 by a group of transgender advocates and lawyers includes this:
NYPD officers place detained transgender women in cells with men in dangerous situations against their will no matter the circumstances. Transgender men have been cuffed to rails outside of cells for hours on end.
The list also says that, "In 2004, a transgender woman filed a law suit against the NYPD alleging a pattern and practice of engaging in unconstitutional and overly invasive searches of transgender people. Since then, at least four other transgender women have sued the NYPD about violations of their civil rights." In one such lawsuit, provided to me by Breslauer's attorney Gregory Antollino and filed in June of last year, a trans woman named Ryhannah Combs said she was arrested outside a convenient store for "loitering for the purpose of prostitution" (she says she was simply doing errands). An NYPD officer allegedly told her, "I've seen girls like you come around here all the time. Just because you're dressed differently doesn't mean you're not a prostitute." She says other officers later lied to make her look like a prostitute, claiming she was carrying 9 condoms when she was actually carrying zero. And she says she "was cuffed to a wall near an elevator for an extended period of time." Eventually all criminal charges against her were dropped.
Sharon Stapel, Executive Director of the New York City Anti-Violence Project, told me that her organization was aware that the NYPD had a problem with its policies towards trans detainees, and that they were working with the department to make changes. She said the NYPD was willing to work on the issue, but that they weren't necessarily ready to agree to all of AVP's recommendations, which include amending patrol guidelines to make sure that trans detainees are treated with "basic respect and dignity." I also talked to M. Dru Levasseur, a transgender rights attorney for Lambda Legal, who told me that a group of lawyers were hoping to persuade the NYPD to adopt clear guidelines for detaining trans people, including a ban on strip-searching detainees purely to look at their genitals (a practice he says is distressingly common). He noted that a number of cities, including San Francisco and Portland, had adopted such guidelines, and said that "New York City thinks of itself as on the forefront of trans rights, but it's way behind on this issue."
Attorney Andrea Ritchie, one of the main attorneys working to get the NYPD to change its policy, confirmed Stapel's statement — she said the NYPD was willing to have "conversations" about the treatment of trans detainees, but haven't yet followed those up with actual change. She also confirmed that Breslauer, Adkins, and Combs (the last of whom she represents) were part of a pattern: NYPD officers frequently chain trans detainees up instead of putting them in cells. Also part of the pattern: unnecessary strip-searching, groping, and false arrests. Ritchie says these practices have been going on for years and the fact that the NYPD is addressing them at all is likely the result of multiple lawsuits (in addition to the ones I describe above, she named three others).
So far I haven't been able to get anyone from the NYPD to comment on this issue in any way. Emails to the Deputy Commissioner of Public Information have gone unanswered. When I contacted Timothy Duffy, the NYPD's LGBT liaison, he declined to comment and referred me right back to the DCPI. All the advocates I talked to expressed some hope that the NYPD would change. But I bet lots of people in the trans community would feel a lot more hopeful if the department would make a public commitment to treating them like people. Until then, all they have to go on are some vague assurances of reform — and a lot of lawsuits that show the exact opposite.
Read the full text of Breslauer's lawsuit here:
Image via maxstockphoto/Shutterstock.com