Marc Jacobs still doesn't get why it's not appropriate for 14-year-olds to be working essentially full-time as fashion models. "You have child actors and children who model for catalogs," the designer tells Time. "What's the difference between doing a commercial for peanut butter and being on a runway?" An interesting position for a man who has devoted his career to convincing consumers that differences more profound than mere label and price exist between his clothes and accessories and the ones you can buy at, say, Wal-Mart. But the difference? The differences include the hours worked — child modeling is a very, very part-time job, while the time demands of the grown-up modeling industry are manifold; Thairine Garcia, the Brazilian 14-year-old Jacobs used for his runway show, already has an extensive work history including ad campaigns, runway shows, and covers of Brazilian Elle, Harper's Bazaar, and Marie Claire, ditto Ondria Hardin, the other 14-year-old, who was a face of Prada last year when she was aged just 13 — and the fact that those kids who do TV commercials for peanut butter, like other child actors, benefit from labor standards, educational protections, financial transparency requirements, restrictions on working hours, mandatory breaks, and other concessions earned over many years by their unions. Oh, and also? The difference is that the children in the peanut butter commercial get paid! But Marc Jacobs doesn't believe in standards or rules; he doesn't even, apparently, believe in labor laws. "I was just kind of doing what I felt," he says, by hiring those 14-year-old girls. "I don't ever mean to be provocative." [The Cut]
---
The best part about this, Model Call, a reality-TV spoof about fashion week casting produced under the aegis of V magazine (and starring, full disclosure, a casting director we're friendly with, Preston Chaunsumlit) is definitely when Chaunsumlit asks Lakshmi Menon if she does nude work, and she just looks at him and says, "Not for Terry." [YouTube]
---
G/O Media may get a commission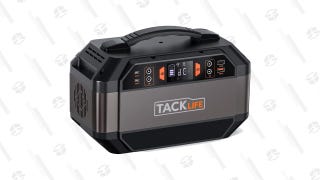 Tacklife Portable Solar Generator
When a reporter called the Sears customer service line to ask why, exactly, the retailer was selling baby onesies with trompe l'oeil stripper pasties on them and other inappropriate messages, the associate agreed they were offensive and shouldn't be for sale. "I cannot believe how offensive this is," she said. "I have kids, I understand, we need to take it down and take corrective measures." UPDATE: Apparently, the baby onesies were sold by another retailer, and used by the Daily News, confusingly, as an illustration. Sears sold different but equally offensive t-shirts. [NYDN]
---
"I'm a construction worker, that's for sure," says Isabel Toledo. "I am constantly obsessed with how things are made. I even make his sculptor stand," says the designer, referring to her artist husband, Ruben. He added, "Her clothes are really made from the inside out. How it looks on the outside is almost an afterthought." The two were speaking at an event at Parsons to mark the publication of their new book. They also said they are working on an unspecified design project in Mexico that would be ready for later this year or next. [WWD]

Joe Jonas is reportedly dating Nina Agdal, a model who was in the Sports Illustrated: Swimsuit Edition. [NYDN]

Private-equity firm and fashion investor Lion Capital has acquired a majority stake in John Varvatos, and is expected to help the label expand significantly. Lion is perhaps best known as American Apparel's backer, and the holder of over $100 million of the troubled clothier's debt. [WWD]

Kanye West showed a very uneven collection during his second Paris season, and what parts the critics liked they were quick to attribute to the influence of Givenchy designer Riccardo Tisci. "Ten points off for copying the smart guy next to you," quipped Christina Binkley. But there are rumors that the similarities may be explained by Tisci and the rapper quietly working together on the line, or that Tisci may be some kind of a consultant. The two have worked together before — Tisci did the album art for Watch The Throne — and are said to be close friends and travel buddies. [P6]

Lynn Yaeger says of Kanye, "just because he has won multiple Grammys doesn't mean you should listen to him when he suggests you spend next winter with a tail-whip, or sporting a skirt with a fur peplum, or trapping your neck in a crocodile collar." [The Cut]

Harvey Weinstein — who once owned and failed to revive Halston but says he is not involved in any fashion projects right now, thanks — says that he has mostly positive impressions of the industry:

"I see a lot of the designers really have affection for other designers. It's less bitchy than I thought it would be.…Here's the myth about the fashion industry that I never knew: I have never seen people work as hard as these designers. Seven collections a year? It's crazy. Who made that rule? In the movie industry, we are spoiled compared to fashion designers."

He also supports stronger copyright protection for fashion designers' works, something he says he talked about with Nicolas Sarkozy while being awarded the Légion d'Honneur. [WWD]

Tag Heuer named Cameron Diaz its newest celebrity face. [WWD]

Mischa "I see tree people" Barton is going on stylist June Ambrose's upcoming reality show because she's sick of getting bad press for how she's dressed. And, ahem, presumably other things. "I want June to style me because she has a great positive attitude and could help me with some of the press," says Barton. "Press is definitely not one of my stronger points. Thee's been a lot of negative things said and I really feel that she could help me with that." [Us]

Marni for H&M launched to what Women's Wear Daily characterizes as "muted" excitement — which still means thousands of people lined up overnight, and some stores sold out of their first stock within minutes. [WWD]

Still miss your favorite shade of lipstick? MAC is offering to bring back one discontinued item of makeup based on a public vote. [Allure]

Maybelline executive Damien Bertrand speaks in evangelical tones about makeup:

"There are women in the world who don't know how to apply makeup," he declares, "who don't know how to wear makeup and don't know how to select the right shade. As the number-one [brand] we really need to be there at every level — on point of sale, on our product and now digitally — to give them the confidence to try, to dare. Because makeup is so important in a woman's life."

[WWD]

The Daily reports on the consistent, ongoing, slow-burning price hike at J. Crew. Company C.E.O. Mickey Drexler told the New Yorker back in 2010 that the company was "undervaluing" certain of its wares and that it should raise prices because the customer will pay more, "once [they] trust the brand." Says one consultant, the company is "having a hard time remembering that the rollneck sweater customer is what drives their revenue. The Fashion Week stuff is all fluff. Think about Ralph Lauren. Sure, he shows at Fashion Week and dresses some celebs and whatnot. However, his money comes from selling polo shirts at Belk's in Arkansas...The sort of 'celeb factor' of Jenna Lyons is a large part of what's driving their rise in credibility. However, they're in danger of alienating their loyal customers who think it's audacious to charge $750 for a sequined skirt." Even Alexis, the blogger behind J.Crew Aficionada, thinks it's too much. "Some of this stuff is astronomically priced and not very practical. Like, who are you creating those sequin pants for?" Here's how Jenna Lyons explains it:

Lyons seems stung at mention of core customer backlash, explaining, hand over heart, that J.Crew doesn't "just raise the prices arbitrarily."


"We sort of, over time, tested the waters and I think when [customers] understand and believe in what we're doing and can see the value, there's no resistance," she said, citing the more expensive Italian cashmere that she and J.Crew CEO Mickey Drexler introduced during the rebranding.


"We had to raise the price a little bit because we were offering a much different product than we'd offered before. We did that and we explained to the customer that this is a different level of quality and that's why we're charging more," Lyons recalled. "We had a wonderful response from people."