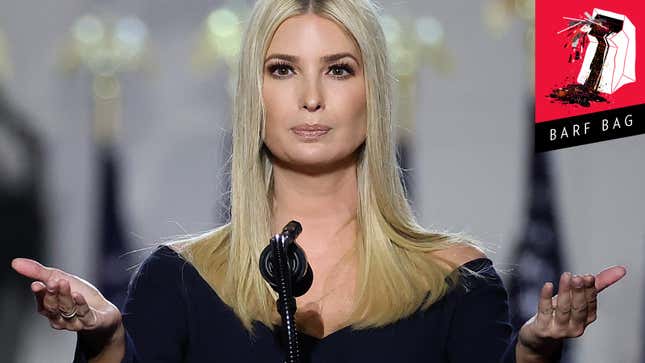 One of the main reasons why we live in this incredibly dark timeline is because a reality TV star, whose businesses were failing, decided that a presidential run would help him burnish his brand. Here's another data point that adds credence to that thesis: According to crime guy and former Trump deputy campaign manager Rick Gates, Donald Trump really, really wanted Ivanka to be his Vice President.

Olivia Holt Didn't Originally Get the Part of Roxie Hart in 'Chicago'
In his upcoming book (god please stop writing books, people!!!), Gates shares that in 2016 as the campaign was debating who to pick for Vice President, Trump had the terrible idea of adding his daughter to the ticket.
"I think it should be Ivanka. What about Ivanka as my VP?" Trump reportedly said. He added, "She's bright, she's smart, she's beautiful, and the people would love her!"
What better way to sell the Trump brand than to have two Trumps running for higher office, after all?
According to Gates, this wasn't just a stray thought that Trump threw out. Via the Washington Post (emphasis my own):
Instead, he brought up the idea repeatedly over the following weeks, trying to sell his campaign staff on the idea, insisting she would be embraced by the Republican base, Gates writes.

Trump was so taken with the concept of his eldest daughter as his vice president — and so cool to other options, including his eventual selection, then-Indiana Gov. Mike Pence — that his team polled the idea twice, according to Gates.

It was Ivanka Trump who finally ended the conversation, Gates writes, going to her father to tell him it wasn't a good idea.
For once in her life, Ivanka was right!
---
Do you need more proof that Republicans and Donald Trump in particular love voter suppression? According to an investigation by Channel 4, a prominent British news outlet, in 2016, the Trump campaign disproportionately targeted Black voters on Facebook in an effort to get them to not vote. Via Channel 4, which obtained a huge cache of data from the digital team run by Brad Parscale (who has been in the news lately for a very bad thing) and Cambridge Analytica:
In 16 key battleground states, millions of Americans were separated by an algorithm into one of eight categories, also described as 'audiences', so they could then be targeted with tailored ads on Facebook and other platforms.


One of the categories was named 'Deterrence', which was later described publicly by Trump's chief data scientist as containing people that the campaign "hope don't show up to vote".

Analysis by Channel 4 News shows Black Americans – historically a community targeted with voter suppression tactics – were disproportionately marked 'Deterrence' by the 2016 campaign.

In total, 3.5 million Black Americans were marked 'Deterrence'.
In Channel 4's analysis, it was disproportionately Black voters who were targeted with "negative ads designed to crush Hillary Clinton's turnout":
In Georgia, despite Black people constituting 32% of the population, they made up 61% of the 'Deterrence' category. In North Carolina, Black people are 22% of the population but were 46% of 'Deterrence'. In Wisconsin, Black people constitute just 5.4% of the population but made up 17% of 'Deterrence'.
This effort sure seems like it went beyond typical political campaigning, i.e., painting your opponent in a negative light and asking people to vote for you instead, and into the realm of voter suppression. Hard to decide here who sucks more—Donald Trump or Facebook and Mark Zuckerberg.
---
ICYMI: The Rock endorsed Joe Biden for president, but let's time travel and gaze at The Rock stumping for George W. Bush at the 2000 Republican National Convention.

---
Guess what Donald Trump thinks is "fake news" today! [NBC News]
A reminder that CNN's Poppy Harlow would not have to say "Brian" over and over again like a teacher trying to get a kindergartener to stop eating his boogers if Trump just released his goddamn tax returns.
In a shocking turn of events, the Washington Post's editorial board has endorsed Joe Biden. [Washington Post]
According to the latest polls, Joe Biden is up by a healthy margin nationwide, as well as in Michigan and Wisconsin. [New York Times/Politico]
Michael Bloomberg continues to spend a small fraction of his fortune to help Joe Biden defeat Donald Trump which is the only thing he should've been doing all along and is quite frankly the only thing he is good for. [CNN]
Bad news time: According to this report, the USPS in August "stopped fully updating a national change of address system that most states use to keep their voter rolls current." [TIME]

CDC Director Robert Redfield decided to shittalk Trump's coronavirus adviser Scott Atlas while at the airport and was overheard by a reporter. Oops! "Everything he says is false," Redfield said of Atlas. [NBC News]
Surprise!