After 4 1/2 months of imprisonment in North Korea, Laura Ling and Euna Lee have arrived on American soil (see video at left). To hear the media tell it, Hillary Clinton should be totally pissed off.
North Korea had apparently specifically requested Bill Clinton as an envoy after rejecting Ling and Lee's employer at Current TV, Al Gore. According to a senior Obama administration official, Clinton did not offer Kim Jong Il an apology, nor did he discuss issues other than the journalists' release, such as nuclear disarmament. That didn't stop Bush's ambassador to the UN John Bolton from sniping, "Despite decades of bipartisan U.S. rhetoric about not negotiating with terrorists for the release of hostages, it seems that the Obama administration not only chose to negotiate, but to send a former president to do so. " He went on,
The point to be made on the Clinton visit is that the knee-jerk impulse for negotiations above all inevitably brings more costs than its advocates foresee. Negotiating from a position of strength, where the benefits to American interests will exceed the costs, is one thing. Negotiating merely for the sake of it, in the face of palpable recent failures, is something else indeed.
Clinton seemed to be negotiating for the release of two women, not "merely for the sake of it," but clearly Bolton knows better. We're not sure what this anti-diplomacy diplomat's preferred response to North Korea was — possibly nuking them?
Also on hand to direct attention away from the enormous relief of Ling and Lee's families and friends are various speculations on how Bill Clinton's trip affects Hillary. Mark Landler and Peter Baker of the Times write,
Mr. Clinton's mission may be less of an issue for Mr. Obama than for Mrs. Clinton. The same day he landed in North Korea, she arrived in Kenya, kicking off an 11-day journey through Africa - a visit now largely eclipsed by her husband's travels.
Of course, Clinton's visit is probably a bigger issue for Laura Ling and Euna Lee than for Obama or Hillary Clinton, by Calvin Woodward of the AP also wants to treat this as a story of clashing political celebrities. He writes,
Bill Clinton's North Korean negotiations cast fresh light on a Byzantine, mysterious power that Americans may never fully understand.

The Clintons.
He adds that "the history of Bill and Hillary Clinton - their partnership, their marriage, their way of one stepping forward while the other steps back - is lined with mazes worthy of the family franchise that rules in Pyongyang" and that "for the moment, he was the one stepping forward, overshadowing her, in familiar tag-team fashion." Despite his "overshadowing" language, Woodward sees the visit as a victory "for the tag team." Maureen Dowd seems to agree, saying "Hillary and President Obama look bigger when they share the stage with other talented players." However, she also can't resist a little nickname-tossing:
Maybe it was some clever North Korean revenge plot, giving the limelight to Daddy to punish Mommy. Just as Hillary muscled her way back into the spotlight, moving past her broken elbow and grabbing the focus from her bevy of peacock envoys, she was blown off the radar screen again by an even more powerful envoy: the one she lives with.
G/O Media may get a commission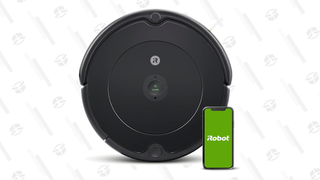 35% Off Black Friday Deal
iRobot Roomba 694 Robot Vacuum
Hillary Clinton, for her part, expresses only happiness at being "blown off the screen" by the release of two prisoners after 4 1/2 arduous months. She says,
I'm very happy and relieved to have these two young women, on their way home to their families. I spoke to my husband on the airplane and everything went well; we are extremely excited they will be reunited. It was just a good day to be able to see this happen I'll have more to say to later, after they've landed.
Ling and Lee have now landed at the Burbank Airport and will reportedly give a press conference later today.
Updated: The press conference is below.
Visit msnbc.com for Breaking News, World News, and News about the Economy
In Release Of Journalists, Both Clintons Had Key Roles [NYT]
Families, Gore Asked Clinton To Intervene [AP]
The Clinton Tag Team Is In Motion Once More [AP]
Let The Big Dog Run [NYT]
North Korea Asked For Bill Clinton [WSJ]
Clinton's Unwise Trip To North Korea [Washington Post]