The Daily Beast issued a challenge to former Project Runway designers: Design an inauguration gown for the First Lady. (At the time, Obama's win was not confirmed.) And! As with all ProjRun challenges, there was a twist: The designers could only use Laura Bush's 2005 Inaugural Ball dress, an American flag, burlap potato sacks and $10 worth of trims of their choice. The resulting sketches? A mixed bag: Partly hideous, partly hilarious and partly high fashion. But we poked around the designer's websites and found dresses from their collections that Ms. Obama might actually wear. The sketches and our choices, after the jump.
Season 1 winner Jay McCarroll says of his burlap cocktail-length dress, "We need to live within our means and get back to basics."
But for his spring 2007 collection, Jay designed this citrusy gown and this metallic gown. Either one could be an elegant choice for Michelle Obama!
G/O Media may get a commission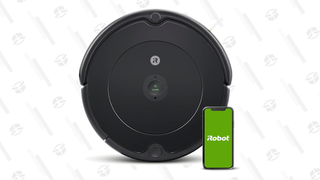 35% Off Black Friday Deal
iRobot Roomba 694 Robot Vacuum
Season 1 finalist Austin Scarlett created this washed burlap strapless gown.
Here's a more formal choice, from Austin Scarlett's line, Kenneth Pool.
Season 2 semifinalist Kara Janx made a dress "about patriotism and change, with a pop culture spirit."
But can you picture Michelle Obama in one of Kara's famous kimonos? The gold trim adds a more glamorous touch.
Malan Breton of Season 3 cut the stars out of the flag and used them to highlight his dress.
But a more simple, regal shape from his 2009 spring collection seems more fitting for a First Lady.
Mychael Knight, Season 3 semifinalist, created a "youthful and sexy" gown. "She's becoming the first lady, not an old lady!"
Mychael's designs are so youthful and so sexy (think: leather bikinis) that the only appropriate gown to be found was this one from an old episode of Project Runway. Still, Ms. Obama could rock this.
Alison Kelly of Season 3 says she "thought back to the Great Depression and remembered Coco Chanel's dropped waist silhouette" when she dreamed up this black gown.
But what if she took this top from her line, Dahl by Alison Kelly, and lengthened it into a dress? It has a quiet yet impactful "wow" factor. And Michelle Obama has great shoulders.
LOL. This is from the lovable Chris March, Season 4. Due to dire financial straits, "The first lady will have to resort to wearing a barrel. Of course, hers will be glamorous."
Checking out Chris March's site, it was tough to find anything Michelle Obama-appropriate. This was the best I could do. It's very "after the revolution," no?
Rami Kashou of Season 4 used draping, of course. The stripes are awfully distracting, though.
Could Michelle Obama wear a Rami Kashou divine golden goddess number instead?
Last, but not least: Season 5 winner Leanne Marshall. Her gown features a dramatic collar and "a very full, pocketed sweeping skirt of 50 horizontally paneled potato sacks." Not bad, but…
This beautiful dress from Leanne's final collection would be much, much better. The Ball Gown Challenge [The Daily Beast] Related: Jay McCarroll Austin Scarlett Kara Janx Mychael Knight Dahl By Alison Kelly Chris March Rami Kashou Leanimal