WASHINGTON, DC—On Thursday evening, a room full of women and men joined Jezebel and Fusion, in partnership with EMILY's List and Washington Parks and People, for a conversation we upliftingly dubbed "What to Do When You're Expecting the Worst." The panel was moderated by senior reporter Anna Merlan and featured Representative Val Demings of Florida's 10th District, Demos president Heather McGhee, Linda Sarsour, Executive Director of the Arab American Association of New York and co-chair of the Women's March on Washington, and Stephanie Rawlings-Blake, former mayor of Baltimore and secretary of the DNC.
These women were kind enough to lend us some of their time to discuss what work they're doing to handle the realities of an administration that, whatever they might say, is not presenting itself as one that will adequately represent the majority of Americans.
The women were generally aligned on their approach to election: "I've stopped crying, and I'm ready to fight now," Congresswoman Demings told the crowd.
"I'm trying to figure out how to talk about it in new ways and different ways so that people don't tune out. Because my discontent is not based in hate, it's based on information and understanding about what it takes to run a government," Rawlings-Blake added. McGhee had some overarching thoughts on the messaging of this particular campaign:

G/O Media may get a commission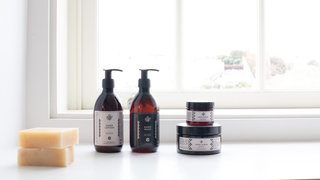 Exfoliate and Hydrate
The Handmade Soap Company
"We saw a candidate use identity politics—and I'm talking about Donald Trump—who managed to make the dog whistles about who gets to really be an American, who really gets to belong, who really deserves, turn those dog whistles into a bullhorn. And we can no longer be silent about how important it is to finally confront the way the Right Wing uses race and gender to divide us in order to keep the spoils for the billionaires and the wealthy and the powerful."
On a more immediate level, Sarsour deftly fielded several questions about the Women's March, and predicted that it will be "the largest mass mobilization that any administration has ever seen on their first day.... and potentially the largest protest in US history."
You can watch some highlights from the conversation here:
And if you're interested, you can watch the whole panel here: