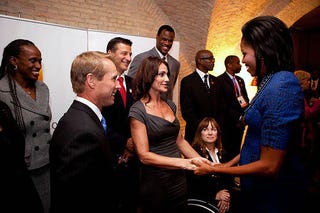 [Copenhagen, September 30. Image via The Official White House Photostream]
First Lady Michelle Obama greets gymnast Nadia Comaneci, her husband gymnast Bart Connor, left, Paralympic athlete Linda Mastandrea, center-right , and other former Olympians before the Chicago 2016 Dinner in Copenhagen, Denmark, Wednesday, Sept. 30, 2009. From left in the background; athletes Jackie Joyner-Kersee, Bob Berland, David Robinson, Dr. Edwin Moses and Mike Conley. (Official White House Photo by Chuck Kennedy)

This official White House photograph is being made available only for publication by news organizations and/or for personal use printing by the subject(s) of the photograph. The photograph may not be manipulated in any way and may not be used in commercial or political materials, advertisements, emails, products, or promotions that in any way suggests approval or endorsement of the President, the First Family, or the White House.