At 92, the sum total of Gloria Vanderbilt's life thus far, were it a biopic, would have it all: gossip, history, money, class issues, fame, love, drama. But she's not a character, which means that an exploration of it makes you wonder, quite frankly, how she has not only survived, but flourished as well.

Nothing Left Unsaid, the new documentary about Vanderbilt's life directed by Liz Garbus and executive produced by/starring her son Anderson Cooper, explores her fascinating life, and seeks to explain how she's made it through. For decades, outsider fascination with her stems from the vast amount of suffering she's experienced, both despite and because of her wealth, and that fascination doesn't stop with this film. The personal highlights begin with her birth into the famous Vanderbilt family, and her father dying when she was barely more than a year old. She was raised almost entirely by her nanny when her mother whisked them off to live in Paris, which led to her becoming the subject of a highly contentious custody battle dubbed "The Trial of the Century" between her aunt and her absent mother.
Vanderbilt was first married at the age of 17 to a man over a decade older than she was who was abusive; after their divorce in her early 20s, she married famous conductor Leopold Stokowski, who was in his early 60s, after knowing him for a month. With Stokowski, she had two children, before they divorced and she married director Sidney Lumet; with her fourth and final husband, Wyatt Cooper, she had two more. It goes on: the lengthy custody battles, the mysterious estrangements (barely touched in the film), the deaths of both Wyatt Cooper and, even more tragically, their eldest son Carter in a suicide she witnessed; and, throughout, glamorous relationships with Errol Flynn, Frank Sinatra, Marlon Brando, Howard Hughes and many, many other famous men.

Coupled with Vanderbilt's professional highlights—she has been an actress, a model, a painter, a writer, and an incredibly successful designer of blue jeans—Nothing Left Unsaid makes other people's lives pale in comparison. (Cooper said he wanted to make the film because "she's the last person in my family alive"; he and his mother have written a book of letters as well.) The film is at times overly sentimental and certainly not very critical of Vanderbilt as a typical doc would be, but that's a natural development given that it's told from the perspective of Cooper investigating her life. And you can hardly blame him. It is a pure testament to what we're here to do—keep living.
"I'm determined," Vanderbilt has said of how she keeps going. "I really am determined to do the best I can and do the best I can."
"Sometimes you have to live in a world where there isn't any 'why,'" Cooper says in the film, reflecting on his own losses, and what he's learned from them. His mother spent years without a firm bottom to rest on, eventually coming to the stuff even a thousand therapy sessions can't force you to find: a full knowledge and acceptance of who she is as a person, which is a more permanent bedrock than even home or family.
G/O Media may get a commission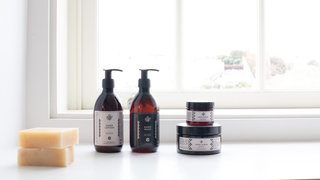 Exfoliate and Hydrate
The Handmade Soap Company
"I have inside me the image of a rock-hard diamond that nothing can get at, and nothing can crack, and I've always known that about myself," she says. At 92, she's sharing that wealth.
---
Images via Nothing Left Unsaid, Getty, AP