It's no secret that same-sex marriage is illegal in North Dakota. But did you know that one of the state's most prominent daily newspapers bans same-sex marriage announcements, too? After a lesbian couple's plight went viral, Fargo newspaper The Forum says they're "reconsidering" its homophobic policy. Will the paper give in?
When Fargo, North Dakota-based couple Allison Johnson and Kelsey Smith decided to place an announcement in The Forum to celebrate their upcoming marriage in New York, they had a feeling they were trailblazers; Smith, who grew up in Fargo, mentioned that she'd never seen a same-sex marriage announcement in the paper before. But neither expected to achieve international internet fame after their ad was turned down via an impersonal email.
"We thought, 'Hmm, we've never seen an ad like this before, so we'll be the first. Cool!" Johnson told us. "We certainly didn't expect to get rejected."
But that's exactly what happened. "I'm sorry, but at this time The Forum does not print engagement/wedding announcements for same sex couples," Dianna Baumann, The Forum's Celebrations Editor, wrote back on Monday morning. "We will refund your $25 publication fee. Thank you."
G/O Media may get a commission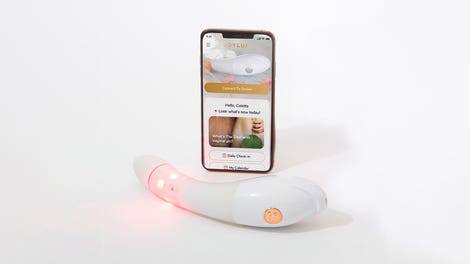 $50 Off
Joylux vFit Gold Device
Johnson was shocked by the letter; she describes Fargo as a "phenomenal," supportive and forward-thinking community, and says she would never have expected to be shamed for her sexuality by anyone in the area, much less its most popular local paper. She said she initially planned to send a screencap of the email to her partner, but later decided to post it on her Facebook as well, hoping she could rally some of her friends to write letters to the paper. It didn't take long for the outrageous (yet incredibly bland) missive to spread through Facebook and Twitter, inspiring outrage among Fargo residents and all over the globe. By Monday night, The Forum's Facebook page was filled with angry comments and promises of canceled subscriptions. A Change.org petition supporting the couple's plight has over 1,500 signatures as of this afternoon.
The debate on the paper's Facebook page has been heated, especially after one commenter posted a screencap that showed the page's moderator had "liked" an anti-gay comment. Shane Mercer, the site's community content manager, said in a comment that the "like" was accidental and that he felt The Forum had "done a pretty good job of just letting the discussion roll free of interference." Mercer, who identifies himself as "a follower of Jesus Christ" on his Twitter account and personal blog, said he couldn't speak with us without approval from The Forum. Multiple calls and emails to The Forum's editors were not returned.
The paper has officially responded via Facebook and in an article today by promising to review their policy. "This is the second such request in recent months," said Forum Editor Matthew Von Pinnon. "We will communicate a decision once it's made." The article's concluding sentence is this: "Marriage in North Dakota is explicitly defined as 'between one man and one woman,' according to the state's Century Code."
It's hard to tell exactly what The Forum feels it has to review, or how it can possibly defend its precedent. Is it because same-sex marriage is against the law in North Dakota? If so, what about all of the other illegal issues the paper covers daily, from murder to car theft? If you find that analogy too ridiculous, consider this recent Forum article: "Fargo woman 'marries' herself in symbolic ceremony." That wedding was described by the paper as "unconventional, but not unheard of."
For now, the couple is busy spreading the word — Johnson said she's spending today speaking with local press as well as the AP — and finalizing the details of next week's nuptials. "It's a great feeling to know that people in Fargo and around the world not only support Kelsey and I, but support all types of people who are in love and want to marry," she said. "A marriage announcement is a small detail, but everyone should have the right to have one. We don't want anyone else to feel the punch in the stomach that we did."
(Images via Johnson's Facebook.)