When I first heard about "leggings that look like jeans," I thought, what a terrible, disgusting, highly unflattering idea.
And the first pair of jeggings I ever saw were repulsive. They were flimsy leggings airbrushed to look like sky blue faded, acid washed, contrast-stitched whiskered jeans. They had an elastic waistband and seemed too tiny and narrow to me worn by a fully grown human. I was confused.
Skinny jeans are part of my uniform. I have several pairs of black ones, from Tripp, in varying lengths and states of worn-out-ness. They are comfortable, but slightly stiff, and sometimes, when you're sitting down, the button digs into your belly. Still, I would never swap them for leggings… I need the support, the structure, the thickness! And I never thought I would like jeggings.
As a preteen I wore stirrup pants. They were high-waisted, pocketless, darted in the rear , zipped up the side and made it look like I didn't have knees. I loved them, and even wore them with a tuxedo jacket and cummerbund to a bar mitzvah. Yes. You laugh. I thought jeggings were a similar gimmick: Ridiculousness masquerading as cool; something that seems like a good idea at the time and later feels like a joke.



But jeggings have come a long way. They have their own theme song! They're sophisticated! I don't care what the New York Times says: Jeggings, if chosen correctly, can be professional. You can find them in sharp, deep indigo and perfectly classy black, with actual pockets and a fly. Old Navy sells 'em relatively cheap, in my size, which, depending on the manufacturer, the item of clothing, and what kind of look I'm going for, is size 16, 18 or 20. Perhaps you are thinking what I was thinking when I first considered wearing jeggings: Girl, if you are size 20, maybe jeggings are not right for you. I hesitated. I read reviews. I contemplated. Then I took the plunge and ordered. Old Navy doesn't carry their plus-size line in stores, and besides, trying the jeggings on at home with different tops in my wardrobe seemed a wise idea.
G/O Media may get a commission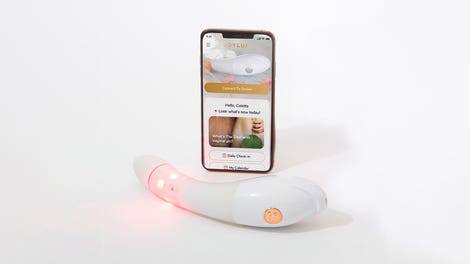 $50 Off
Joylux vFit Gold Device
The jeggings arrived. They were very… light. Used to the heft of jeans, they felt frail. But they were soft. They had back pockets, front pockets and a zipper. And when I pulled them on, I felt an interesting sensation as they hugged but didn't squish, conformed without constricting. They felt wonderful. "If they feel good, they must look crappy, like when I wear yoga pants," I thought. Surprise! They look awesome. I'm wearing them right now. So. Today is the day I can announce: I Like Jeggings. Bring on the false zippers. All hail fockets. Jeggings — in their truest form, or whatever kind of hybrid — make sense. And if they don't look good, for the love of God, don't tell me. They are so freaking comfortable. Jeans plus leggings. You're my girl if you wear jeggings.
Dress Code Snaps Back [NY Times]
Earlier: The Best Female Rap Video About Jeggings You Will See Today