What women want - aka, female sexual desire - is a fraught issue in the mental health community. Also: Raisins.
Maybe it's not helped by the fact that Daniel Bergner (who's examined the fairer sex's fairer sexuality before) begins his discussion of one researcher's therapy session this way:
At her group therapy sessions for women despairing of low sexual desire, Lori Brotto likes to pass around a plastic tub of raisins. The women, usually six to a group, sit around two pushed-together beige tables in a fluorescently lighted conference room at the British Columbia Center for Sexual Medicine in Vancouver. A little potted tree is jammed randomly in one corner. Ragged holes scar one wall where a painting used to hang. The décor doesn't speak of sensuality. That is the job of the raisin.
We get it; it's not sexy. In fact, it's vaguely sad, isn't it, all these women yearning after bodice-ripping desire and playing with that dowdiest of all foodstuffs, raisins. It rather serves to cast doubt on the author's feelings about the whole science - which, his piece goes on to explain, has trouble being taken seriously by a traditionally male establishment. And if he, an author whose work is devoted to, well, taking these things seriously, can't forbear a little gentle smirking, it's telling indeed. And yet, it's a fascinating piece, and an important one: Brotto, the researcher, estimates that some 30% of women experience bouts of "hypoactive sexual desire disorder" - a loss of libido that's almost completely mental, and that "between 7 and 15 percent of all young and middle-aged women - an age range that researchers generally set between the neighborhoods of 20 and 60 - feel distressed over the absence of desire."
The lack of understanding - and funding - of the syndrome is what Brotto seeks to address. What's traditionally been dismissed or roped in with other forms of dysfunction seems too wide-reaching and too fundamental to not deserve its own area of study. Brotto's therapy, whose results by her own admission are difficult to classify, involves "an immersion in physical sensation" - a sort of sexual biofeedback that helps the women reconnect the mental and physical.
G/O Media may get a commission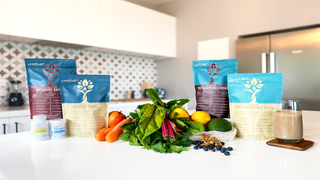 Much of her approach is based upon the work of a researcher called Rosemary Basson, whose " Basson Sexual Response Cycle" is making waves in the medical community. Bergner explains it thusly:
"desire follows arousal," is a real rearrangement of expectation and a reweighting of sexual theory. The model with swollen red lips gazing out with molten need from the billboard or the MTV dancer pumping her half-covered hips at the camera - these icons in heat embody a cultural standard. And though some women, according to Basson, do feel such craving some of the time - at the beginning of a new relationship, for example, or possibly at a certain point in the menstrual cycle - and though a few women may sense such electricity surging regularly through them, these images, she suggests, are largely illusory ideals. More likely for most women, Basson argues, the start of plenty - and maybe the great majority - of sexual encounters is defined not by heat but by slight warmth or flat neutrality. And there's nothing wrong with this, she says, nothing disordered...Brotto knows too that there are sexologists who maintain that desire by any definition - whether the sheer lust Basson minimizes or the responsive variety she trumpets - is almost entirely a cultural invention rather than a biological reality; that it has been made to seem essential by the sex scenes in movies and the advice columns in magazines; and that it is best deleted from the D.S.M. Leonore Tiefer, a professor in the psychiatry department at New York University and the author of a collection of essays titled "Sex Is Not a Natural Act," argues that the contrivance is compounded by the pharmaceutical industry, which offers research money to sexologists who find ways, no matter if unconsciously, to inflate hugely the numbers of women suffering from an already-fictive condition - a disorder that the drug companies intend to cure. High numbers help to increase awareness, which stokes demand. To what extent this theory represents truth, as opposed to being merely plausible, is hard to sort out.
What it all comes down to is quantifying - or qualifying - the normalcy of feminine desire. Bergner, himself, has made a study of the subject (his latest book is called "The Other Side of Desire: Four Journeys Into the Far Realms of Lust and Longing") and seems no closer to getting an answer than anyone else. Female lack of desire, in cultural terms, is not the badge of shame that men's sexual dysfunction is: a Viagra ad on the subway may show a man looking embarrassed, angry, emasculated, but "having a headache" is a standard cultural cliche. (That's why, after all, a Samantha Jones is still automatically comical.) So much for men: as long as he's "functional," the shrinks seem to feel he's fine! But there is, as the author and every frustrated researcher he quotes, no way of measuring a woman's sexual imperatives, so tied are they to society, culture, personal history. Not to mention, those who simply dislike raisins.
Women Who Want To Want [NY Times]