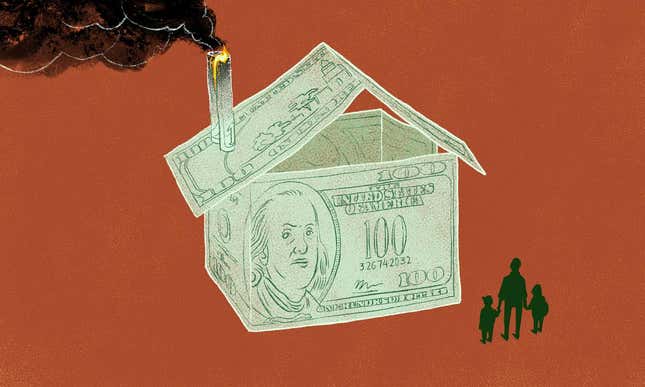 "This year could be the one in which I make $25,000," I wrote, last fall, in the addendum to my California Child Support Income and Expense Declaration form. "I am a freelance writer and my salary can fluctuate wildly. However, from 2009 to 2014 I consistently earned less than $10,000."

This is so not the fatherhood I'd imagined as a male raised by a sometimes super-poor single mother or, for that matter, as a regular, paycheck-to-paycheck father, which I was for more than a dozen years—in home and across town. Where I went wrong was assuming victory, career-wise. A couple of corporations gave me a little dough and I celebrated like the overly-confident football player you see streaking through a highlight. Then I fumbled, with three kids and daylight in front of me.
My 1.45 high school GPA makes plain why I thought I'd scored. In the mid-1980s, I trained to be a reporter at Sacramento City College. The campus newspaper office was a concrete box between the auto shop and the typesetting program. A broke 19-year-old about a year out of small-town Ohio, I let myself own the dream of a lifetime—a daily newspaper job in the capital of California—while banging out stories on a Brother typewriter that my mom bought at K-Mart. Journalism was a vocation that, just beyond a neighborhood engulfed in smoked cocaine vapors, held me firm and opened up everything.
Today, I'm not quite 50. My work has been in Time magazine and on Sundance screens, I've told my stories live on East Coast and West Coast stages, and I possess barely enough cash to cover the coffee in the Portland cafes where I ply the words-for-pay hustle. My core industry is rebuilding from a financial tsunami, and I don't live in a major media market. I try to remember what Baldwin said in the July, 1968 issue of Look! magazine, considering the pioneering work of young Sydney Poitier. "All careers, if they are real careers—and there are not as many of these occurring as one might like to think—are stormy and dangerous, with turning points as swift and dangerous as hairbreadth turns on mountain roads," he wrote.
Stormy and dangerous. On a good day, as things now stand, there's bus fare. My practical assets are one true-believer girlfriend, a literary agent who's "confident" I can give her something great, and just enough social media and writing gigs to keep the wolves at bay.
This moment's wolf, if I may be crass, is thousands of dollars in delinquent financial support for my children—two boys from a nine-year marriage that ended in 2004 and one fantastic daughter from a subsequent relationship with a casual acquaintance. I love all of my offspring madly and I owe each of them money.
So, so much money.
---
When I began falling what felt like hopelessly behind in the financial assistance of my three offspring, Child Support in California suspended my driver's license. This was in 2011. CSS would yoink lion's shares of temp gig paychecks, unannounced, and when I was out of work during the recession's darkest days, they'd deflate my bank account of deposits from the state's unemployment insurance.
Contrary to my fatherly aims, trying to get right with Cali's bureaucrats feels more about not having to live on the lam than actual support. In feeling myself a big, criminalized papa for not mastering the turns of my employment life, I am not alone.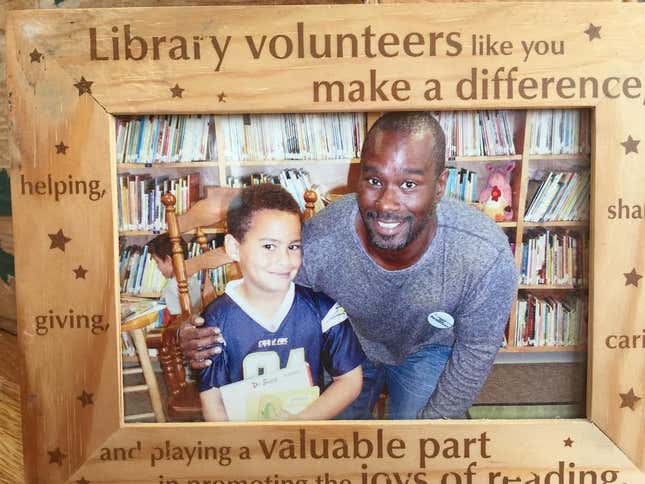 "Historically, Child Support has been an organization that has wreaked fear in the hearts of men," says Tonya Glantz, director of the Child Welfare Institute at Rhode Island College. "They didn't necessarily feel that it would be a fair process, and so rather than even try to negotiate and navigate, a lot of what I've seen happen is men just avoiding it for fear of what can happen."

Finding in contemporary child support rhetoric a kind of "demonizing" associated with the tactics of bad immigration policy, attorney Lisalyn Jacobs, an advocate for low-income women and victims of domestic violence through the organization Legal Momentum, is critical of strategies such as driver's license suspensions. Jacobs says the penalties can "put someone in a position where they are spiraling down in their inability to respond to the obligation you believe they have. It's somewhat perverse in that way."
Both Glantz and Jacobs spoke in the context of Walter Scott, a Coast Guard veteran and non-custodial father who last April was shot dead after fleeing from a South Carolina cop. Scott, who in the past had been enrolled in a program for fathers behind on child support, may have thought he was going to jail.
A Supreme Court decision from 2011 officially ended the imprisonment of indigent non-custodial parents, but tell that to the thousands of American poor getting locked up on the regular. Not that you should know about the (primarily) fathers on lock. In Rebecca May and Marguerite Roulet's A Look at Arrests of Low-Income Fathers for Child Support Nonpayment: Enforcement, Court and Program Practices, the researchers say:
"On the one hand, every focus group and interview we have conducted across the country has provided ample testimony by low-income noncustodial parents of spending time in jail for the nonpayment of child support. On the other hand, there is little evidence in the literature on the numbers of parents who have been arrested on such charges."
If "deadbeats" were anything other than human piñatas, the documentation might get a little more precise.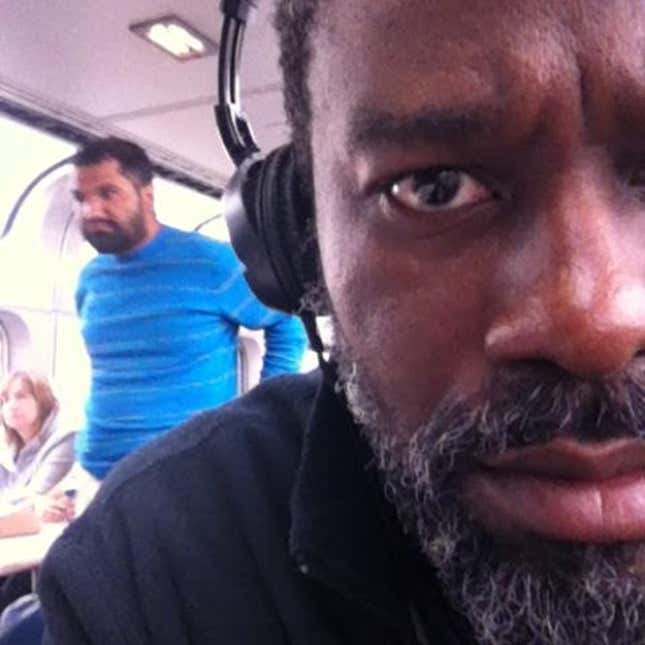 It's clear, anyway, that the wrong non-custodial parents are targeted. The federal Office of Child Support Enforcement reports that, as of 2003, of the more than $70 billion in child support debt across America, 70 percent is owed by noncustodial parents who have no quarterly earnings or with annual earnings of less than $10,000. Only four percent of child support arrears are held by noncustodial parents who make more than $40,000.
In the state of California, according to 2011 reporting, roughly $20 billion in child support has gone uncollected, and 80 percent of the non-custodial parents in arrears make $15,000 or less. Seventy percent of child support debtors analyzed nationally earned either no income or an income of less than $10,000. There's another common thread: our debt is increasing because of interest. A 2009 Urban Institute study, sampling in arrears populations from nine states, shows interest penalties as high as 12 percent.
Let's get real: Some fathers who don't pay child support are indeed mustache-twirling deadbeats committed to shortchanging their children. (Perhaps you've read about them on Facebook.) Some are elusive junkies, switching up their cell phone numbers like burners on The Wire. (Perhaps you've read about them on Facebook, too.) Some are straight junkies. The majority are, for any number of reasons, just regular old broke.
My ex-wife Amy reported, for the purpose of this story, that I'm into her for about $120K—not including my oldest's out-of-state university tuition. Amy is credible. In fact, $120K feels mad low; when I was in my thirties I made low six figures. But there's no government account for what I owe for my two sons. It's off the books, which means this phase of support engagement is with my daughter, or—more practically—with her mother. CSS reports that I am $4,550 in arrears for my fantastic daughter. That figure, too, seems very understated.
Regardless, I ain't got that shit. Not even close. Right now, $4,550 feels like $4,550,000.
---
"They want to know how you meet your expenses," explained San Bernardino County Child Support Services ombudsman Brad Davis, charged with assisting me in my paperwork over the phone. "With no income."

Well, shit—so did I.
In the half-dozen years since my earning capacity started to hemorrhage, I've tried to modify my monthly support payments and come up short. Guidance from the ombudsman only came my way at summer's end, after I contacted Child Support in Sacramento as a representative of the Economic Hardship Reporting Project. Before Brad jumped into the mixture, California's system had felt like a poorly-lit maze, tricked out with a less-than-scalable website, variably avenging caseworkers, and a broken river of elusive snail mail.
Brad straightaway got me into the super-useful CAChildSup smartphone app. And it is from the ombudsman I learned that my caseworker, the one who had already hung up on me abruptly, had sent another 10-page Income and Expense Declaration form at me, unannounced. I'd miss that paperwork's arrival, as well as its deadline for completion and return. For this next stab at having my support payment modified to fit my income—a process that can take as long as six months—Brad the ombudsman now tells me I'll need to be more explicit in explaining how little cash I have.
My bad, no question; there hadn't really seemed space to explain the project Kickstarter that had paid my way through the months preceding my application. Since that gambit, traditional compensation for journalism rendered had begun re-emerging in the post and Paypal and such. I began working through the form, again, and found myself asking myself if this child support modification request really had to happen. Wasn't there more money I could be earning, somewhere?
Making the request felt a loser deed like nothing I'd ever imagined, but the answer was no to the second question, yes to the first. My middle child would be flying up, and holiday flights aren't cheap. The broken molar in my mouth is being held together with hope, and I haven't had new clothes in five years. And, sure, there is that gym membership, but only because the one thing people like less than a poor person is a fat poor person; I don't need to be inventing new reasons for prospective employers to resist me.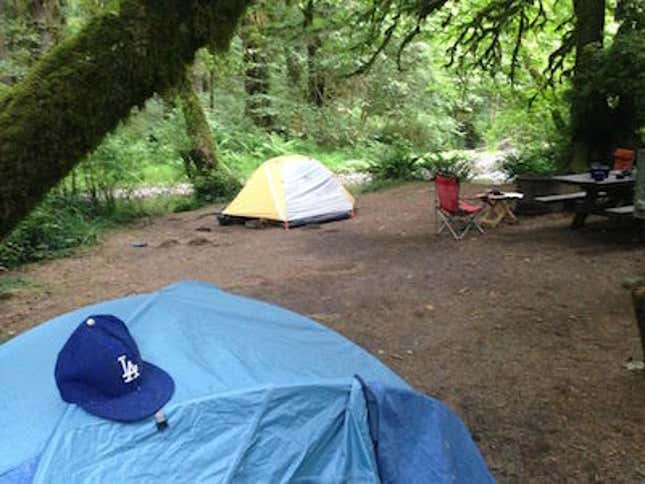 In Portland, prospects for making a living have also been on the rebound; I'm finally seeing checks not sent from New York or Cali. No more working for that Northern California cannabis grow operation between storytelling gigs. Over that period when America lumbered toward Obamacare, I was existing in a cash economy, with no bank account and only sometime-cell phone service; when trying to work a driver's assistant's job in mythic, rainy Obscuria, Oregon, I'd had that $10 per hour UPS wage garnished at a 70 percent rate. In the end I earned under a quarter per delivery. It would have been more lucrative to set up a shoeshine stand.
After that, I entered the couch-surf universe of odd Canadian men's mag assignments and selling my old books out of my suitcase. I'd go to an ATM looking for my unemployment insurance and find my bank account drained by CSS. Here is roughly when Big Bad Cali took away my license to drive, even in Oregon, and steered me even further off the grid.
What do I aspire to? To keep up with the needs of my children, and maybe to never again receive food stamps. It's not like I'm unskilled; I ought to be able to pursue a professional life. I want to. Yet, dealing with Child Support Services in California has too often felt like an impediment to progress. Ombudsman Brad told me that the The Hang Up Caseworker sent my payment modification to an incorrect address, which means another delay in the drawn-out process of having the payment demands line up more humanely with what I earn.
---
Petite Rhode Island, home to one of the the nation's most progressive (and easily implemented) child support systems, hosted its first Fatherhood Conference Summit in May 2012. At the conference, Glantz and other local experts addressed the struggles for men in the court and child support system.
She said that any department working with Rhode Island families "needs to integrate father-inclusive standards with current practices" and "create inclusive and competent fatherhood practice in the state."
"It's about culture change," Glantz said during a phone call, "and acknowledging men in different roles and systems having to evolve with the social evolutions that are taking place."
A few days after Brad the Ombudsman said he'd have a fresh set of Income and Expense Declaration forms sent to the right Portland address, I got a text from the mother of my daughter. Because legal issues are a thing, let me only write that the request was that I give up my parental rights. She asked that I let her domestic partner adopt the girl. They have a good thing going and she said she was texting this request because I do not care about being a father.
---
I called the ombudsman and asked what to do. He told me that Child Support Services is not in the business of giving out legal advice. It made perverse sense that he had nothing for me.
"The state doesn't necessarily do nuance well," Lisalyn Jacobs reminds me. I know it's a fine line between coercing and assisting. In Jacobs' decades of advocacy, she has witnessed American child support laws—set at the federal level but carried out by states and counties— fail to compel genuine, well-off deadbeats to carry their weight. The indigent are easier to get to. And as doing right by indigent fathers is the last platform a politician might run on, arrears dads are sharing cells with killers and missing out on work opportunities that might lessen their debts and restore paternal bonds.
"For country that claims to be—and I say this as a preacher's kid—Christian, or speak from a standpoint of Christianity," Jacobs told me, "it becomes that much harder to understand punitive responses like suspending someone's driver's license."
---
The thing between my fantastic daughter from a casual post-marital relationship and me: What would my little girl think of the potential transaction, of me giving her up? Of me, for even considering it? Gaining a bit of financial wiggle room, I'd also lose a lot more than a kid with my name. Ten mornings or so into the Support Modification Mambo, I did a thing I almost rarely do: Phoned my ex-wife. To talk about the daughter I sired after we broke up. Always an awesome topic.
My ex works as a creative director, someone who came out of the New York magazine industry in better shape than she arrived at that world, and Amy has been pissed at me about money since before Obama got elected President. She also knows me as a Capital-D Dad, even when I profoundly frustrate her. My ex-wife just might just possibly offer a useful perspective on my daughter and her name.
I requested by text that she phone me, then asked for her thoughts on letting go of my little girl.
"Have you lost your mind?" Amy asked. "What do you even know about this man who would become her father?"
I was snapped out of a spell. What did I know about the man in my daughter's Southern California home who would be her official father? Only that he was carrying my financial weight.
---
An envelope containing my fresh modification paperwork showed up the day before I stopped writing this, finally. Less than a week later, Brad the Ombudman called to say that, should my response miss the standard 15-day window, the San Bernardino office can cut me slack.
A thrown bone. Yum.
And then, appearing telephonically—through a service that charged me $86—I had my day in court. Seventy seconds before the San Bernardino mediator could hear my modification request, the teleconference service dropped the call. After a brief-but-lively back and forth between my daughter's mother and I, the county ruled that my monthly child support payments should be cut by just over half.
Emerging is the expectation that the transaction will play out differently than my previous stabs at support adjustment. No more love on the run. Because, here's the thing: I don't need to be Baldwin anymore; enough of that spectacular career business. I'm just trying to pay my bills, like everyone else.
---
Donnell Alexander is a creator of cultural content based in Portland, Oregon.

This feature has been supported by the journalism nonprofit Economic Hardship Reporting Project.
Illustration by Angelica Alzona