Goldman Sachs lavished upon its minions twenty billion dollars in holiday bonuses this year. (Er; $20.1 billion. Sometimes a hundred mil gets lost in the spreadsheets.) If I ran things at Goldman, I'd just give out ten million to the 10,000 best bankers, but they apparently believe in the income gap over there, which is why one poor 28-year-old Goldman guy (that's not him in the picture) got stuck at the pitifully low end of the season's bonus pool. No matter. He actually feels lucky anyway! After all, he could be unemployed, or hungry, or a genocide victim. At any other bank he could have nothing but a portfolio of subprime mortgage backed securities in his stocking. All this dawned on him yesterday, leading to this desperate missive begging someone, anyone, to allow him to recognize the spirit of the season with a little Christmas giving. A modern-day Craigslist Christmas Carol pasted here for posterity, after the jump.
Reply to: pers-513328535@craigslist.org
Date: 2007-12-18, 3:10PM EST
the holidays suck. i never thought that i'd ever say that but this is the first time in my life as an adult that i don't have a girlfriend to share in the experience with and it sucks. bad. 3 weeks ago i came home from a night out for steaks and cigars with some of the guys from my office to find that she had cleaned out her drawer in my custom made oak dresser and left a note on my viking stove that simply said "i'm done." i've been texting her like 10 times a day but i haven't heard from her since.
what sucks even more about it is that i just got word from my boss at GS this morning about how much my bonus is going to be this year. wanna guess?
772k.
and you'd think i'd be happy, right? WRONG! i mean with so many people out there whose lives are so less meaningful because they only make 60 or 70k a year, how could i not be happy? well, think about that for a minute. what use is three quarters of a million dollars per year in income if you've got nobody to share it with, nobody to lavish with flowers and designer bags and shoes and dinners at places like per se, nobu and babbo? what good is the new condo on the west side when i've got nobody to sit out on the balcony to look out over the river and drink egg nog with during the holidays.
G/O Media may get a commission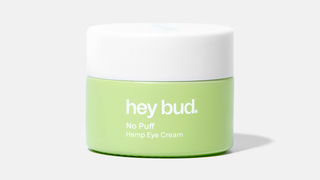 15% off
Hey Bud - No Puff Hemp Eye Cream
most importantly, what use is a 15 foot fraser fir christmas tree if i've got nobody to put presents underneath it for?
so what am i looking for, you ask? someone to share all of this with at christmas, that's what. i'm out of the office all of next week and i'm going to go crazy all by myself in my huge, shiny new condo. all i ask is that you're reasonably cute and willing to reciprocate my kindness and generosity by keeping me warm on these cold winter nights. i don't even care if you're jewish or some other religion that doesn't celebrate christmas because my parents will be in france and will never find out. together we'll go out for amazing dinners, we'll go shopping together, we'll drink great wines and at the end of the day we'll get each other off fabulously.
finally, you need not worry about not being attracted to me. i'm 28 years old and i've still got the same looks/physique that i had when i wrestled in college and have had a certain part of my anatomy compared to a baby's arm. i am also quite charming.
so what are you waiting for?