Chloe Grace Moretz has found herself in the unenviable situation of stumbling into someone else's unpleasant narrative. In an interview with Variety for their "Power of Young Hollywood" issue, the actor discussed a crush she had at—excuse me while I add a few shots of whiskey to my morning java—four years old: Aaron Carter.

Ana Gasteyer Satirizes the Girl Boss in 'American Auto'
"When I was 4 years old I thought Aaron Carter was so cool," she said. "My friend, when we were both little babies back in Georgia, she liked Aaron Carter, too. We used to fight about who would date Aaron Carter one day. Who knows? Maybe we'll meet."
Had Aaron Carter not been recently thrust back into the spotlight after a brush with the law and subsequent series of personal revelations, perhaps this line would have been totally ignored. But because talking about Aaron Carter is something we do now, it's a whole thing—and he knows it. Carter has since publicly asked Moretz out on Twitter not once but twice:
G/O Media may get a commission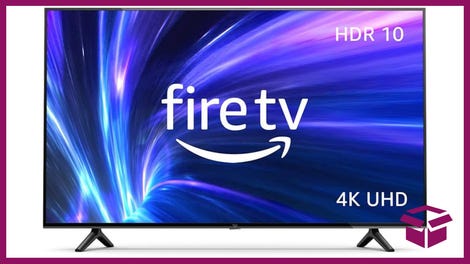 42% Off
Amazon Fire TV 50" 4K Smart TV
While I understand that no woman should ever feel obligated to respond to a persistent man, I do not envy Chloe Grace Moretz right now. While she must understand that not saying a single word is probably the best option—that everyone will soon forget about this whole thing and move on to the next story—imagine the pressure of seeing headline after headline suggesting you're on the hook to tweet back! All the while knowing it's likely that terrible people on the internet will insult you for not responding! What a nightmare!!!
[People]
---
Remember how that one woman said she got herpes from Usher in 2014 and then Usher's sources were like, "no no she's not his type"? Well that whole mess is still going on, and now Quantasia Sharpton, the woman in question, has receipts.
TMZ reports an employee of the Atlantic City Days Inn where the alleged dalliance occurred told them she absolutely saw Usher go up to the woman's room that night. Writes TMZ, "She says Sharpton came down, greeted the singer in the lobby and brought him to her room."
OK, so eyewitness testimony isn't exactly a receipt, but it's close. It's, uh, an emailed receipt. Or something.
[TMZ]
---
I love the Hemsworths. How boring. :(
---