Dear Earth,
Here is a thing you should know: I will never, EVER stop saying "vagina" when I mean "vulva." Yes, I know the difference. No, I don't care how mad you are about it. Yes, I think your outrage is misdirected and humorless and pedantic and boring. No, I'm not sorry. And if one more person e-mails to tell me the difference between a vagina and a vulva I'm going to start calling both of them "inside-out-dong-sock." Vagina vagina vagina vagina vagina.
Looky here, ding-dongs. I am in the business of entertainment. And vagina, for whatever reason, just sounds funnier than vulva. It just DOES. "Vagina" also has a long history of making people incredibly uncomfortable—there's a confrontational value to it. "Vulva" is clinical, anatomical, medical. Boooooriiiiiing. Vagina is like "junk." At this point in our linguistic evolution it's become a general term for the general lady-area.
Now, if I wrote for an anatomy blog, or a high school health class blog, or a blog about two twins who were unfortunately named Vulva and Vagina O'Houlihan, then I'd go out of my way to be as specific as possible (because I don't want people to think that it was Vagina O'Houliahan who got an Irish dancing scholarship to Notre Dame when actually it was Vulva!). But I don't. I write for a general-interest, humorous lady-blog, where every single reader knows exactly what the fuck I mean, in context, when I say "vagina." And I'm going to keep saying it. Because WHOOOOO CAAAAAARES?
In case you're still planning to write me a letter, let's save some time. Here is a sample conversation that I already had with a very concerned citizen:
Hi!

Probably someone else has pointed this out before, but all vaginas are pretty much the same color and would be difficult (and probably painful) to bleach. Nobody would be able to see the result, so why would you bother?

Vulvas, on the other hand, come in assorted shapes, colors, and styles. Bleaching, while certainly a practice that is unnecessary and needlessly demeaning, might be noticed by someone.

Ciao!
Steve
Thanks, I know what a vagina is! I have one. The word is often used
colloquially to refer to the entire area.
Cheers,
Lindy
Dear Lindy,

I suspected you did. Colloquial, I guess, is the new term for mistaken. If you're going to talk about the whole area, I think uterus, which is also part of the "entire area," is a nice word too.

It's not my intention to be a bastard (I'm just drawn that way, I guess,) but it just baffles me why women, who should want to be in control of such things as correctly defining the very things that in turn help define who they are, would want to continue imparting misinformation to their sisters in succeeding generations.

Prost!
Steve
No, colloquial is the old term for colloquial. But women everywhere are grateful for your vigilance in correctly labeling our genitals.
G/O Media may get a commission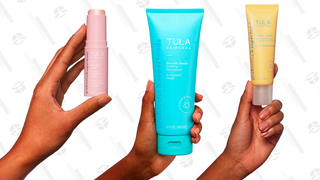 Look. Say I were to kick Rush Limbaugh in the dick right now. Would you expect Rush Limbaugh to be all, "Owwwwww! My corpus cavernosum!!!!!" NO. He'd be like, "Owwwwww! My jewelz!" (Actually he'd probably be like, "HNNGGG, DO IT AGAIN AND CALL ME HILARY" but w-evs.)
Say Mike Huckabee were to dye his nipples hot pink so they looked like two succulent maraschino cherries that fell on the barber shop floor. I could say, "Mike Huckabee dyed his nipples," but I probably would say, "Mike Huckabee dyed his boobs," because that sounds way funnier. That doesn't mean that I don't know the difference between nipples and breasts, nor does it mean that readers of this blog will suddenly forget everything they know about human anatomy and chaos will reign.
Women are veritable menageries of parts, and all of our parts deserve attention, respect, and care—our vaginas, our vulvas, our clitorises, our labia, our flopsies, our monkey-toes, our shawarmas, our bindle-sticks, our bishop's fiddles, our flim-flams, our Mines of Moria, our landlord's lament, our gongs, AND our toon towns. (And you thought I don't know anything about anatomy.) But that doesn't mean it's disrespectful to use a catch-all shortcut when I need to refer to all of those beautiful miracles at once. So for my catch-all, I choose to use the word "vagina"—which is also, conveniently, the world's most bizarre catcher's mitt. Thank you for your time.
Love,
Lindy