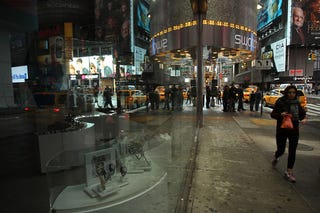 Most major retailers from North Carolina to New England remain closed today due to Hurricane Sandy, which last night made landfall in New Jersey and has wreaked havoc on Lower Manhattan as well as coastal Brooklyn and Staten Island. The economic impact of the storm is not yet known, but retail analysts say the lost sales could top $500 million per day for the whole East Coast, including $30 million per day for New York City alone. NYC's mass transit system is still shut down and over 700,000 people are currently without power. Macy's, Neiman Marcus, Bergdorf Goodman, Saks Fifth Avenue, and Belk are among the department-store chains to have closed, variously, dozens or hundreds of stores, corporate headquarters, and distribution centers located in Sandy's path. PPR head François-Henri Pinault was also forced to cancel a trip to NYC. [WWD]
Robert Pattinson's face will soon be attempting to sell you Dior perfume. For his services, the actor will be paid a reported $12 million. [E!]
Ever wondered what Tamara Mellon does on her own time? The New York Times reports:
Recently, she opened her apartment to a salonlike gathering of friends and associates (a group The New York Post later called "some of New York's most beautiful") to hear the psychoanalyst Mark Solms discuss "The Brain in Love." She said she will host more talks with the Neuropsychoanalysis Association, including one on child brain development. "If I wasn't in fashion, I would have been a psychiatrist," she said.
Fascinating. (Yes, this is still the same bullet point - this CMS is not my cup of tea, okay?) Mellon is also publishing a book - part memoir, part business tome, she says - and working on a new, namesake fashion venture set to launch as soon as her non-compete with Jimmy Choo expires next year. [NYTimes]
The C.E.O. of the British fashion chain Whistles, Jane Shepherdson, says that Kate Middleton wearing a Whistles blouse "didn't do anything for sales" even though it did increase the company's Web traffic. Shepherdson continued:
"I suppose the biggest impact has been on a dress she wore at the [Olympic] Opening Ceremony. It's a style that's been very successful for us anyway - a printed silk dress. That weekend, we sold out of it. Well, of what we had.

"The thing is that we don't do huge runs of anything. We might have sold out of it, but there might only have been 150 units. People still ask about the 'Bella' body con dress she wore from Whistles. We have a lot of customers who phone up and ask for it. And, to be fair, every time we have done that dress in a different print, it's sold out, but I couldn't say it lifted our total sales by 50 percent that week, because it didn't."