MANHATTAN—On Tuesday afternoon, hundreds of New York City teenagers walked out of their high schools and headed to lower Manhattan where they protested Donald Trump's immigration and refugee ban.
They gathered at a rally in Foley Square co-sponsored by the New York Immigration Coalition, Arab American Association of New York, and MPower Change to hear city officials and organizers like Public Advocate Letitia James and 17-year-old Hebh Jamal speak against the executive order that indefinitely bars Syrian refugees and temporarily bans nationals from seven Muslim countries. The group then marched to 26 Federal Plaza, the local immigration and naturalization office, where a group of students cried, "Let them in!" and "Muslim Lives Matter!" Coincidentally, the demonstration occurred just as controversial nominee Betsy DeVos, a GOP billionaire donor with no experience in education policy, was confirmed as Education Secretary.
Atia, 15, heard about the protest from a classmate who organized a group of about 50 students at the Brooklyn Latin School. While her school's administrators didn't actively encourage students to protest, Atia said they have been very pro-immigrant and security guards escorted student demonstrators to the subway.

Atia wore a black hijab bedazzled with clear rhinestones and said that she refuses to remove her headscarf to fit in with Donald Trump's vision of America. She was encouraged by the outpouring of support at the protest. "There are hundreds of students from NYC here," she said. "It's really nice that people came here and they're fighting for us, we're fighting for them, we're all fighting for each other."
Not everyone felt encouraged by their school, however. Emma, a senior at New Explorations Into Science, Tech and Math High School in the Lower East Side, said that her school sent a memo to parents urging them to not allow children to attend. She and several of her classmates managed to sneak out anyway, she said. For her and several other teens, the anti-Trump protest was not their first, and certainly not their last in the next four years.
G/O Media may get a commission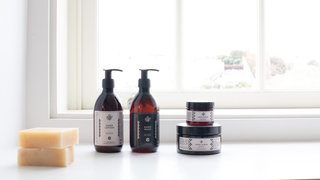 Exfoliate and Hydrate
The Handmade Soap Company
Habeeba, a 16-year-old student at the Young Women's Leadership School of Astoria held up a provocative image of Trump as Adolf Hitler plastered over a Swastika. She said she walked out of her school with a group of 60 students and teachers who were "rooting for us."
"If we all stand up as minorities and we all stand together, we can make a difference," she said. "In about three days we had a judge already say that this was unconstitutional, and we made a change," she continued, citing federal judge Anne Donnelly's stay halting the executive order days after protests erupted at JFK and elsewhere across the country. "So the more people who keep protesting, the more people, who keep standing out here in the cold, holding up their posters, is going to make a change."
Since she can't vote yet, Habeeba sees protesting as the main way to exercise her political voice. "We're the future. The next presidency, we're going to be voting," she said. "So in these four years, the protests help us train ourselves so we don't make the same mistake again."