I do not have any patience for "pranks," which is a made-up thing that allows people to be terrible to other people in a socially-acceptable context. When judgement day comes, "pranksters" will be the first to be sent straight to Hell. Wow, do I hate pranks and their pranksters.
On Tuesday, Huffington Post UK spotlighted Brad Holmes, a so-called "Facebook prankster," (read: asshole) who played a "prank" (read: tortured a woman who seems to be his girlfriend) and then posted a video on the internet. Why this schmuck hasn't been arrested yet is beyond me.
In the video, which is still available via HuffPo's cached article (they have since removed the post), you hear Holmes say, "So, it's Jen's time of the month so I'm gonna play a little trick on her and give her a hot vagina," as he shows the camera a chili pepper.
"I'm gonna rub this chili onto this tampon," he laughs, "and see what happens."
Okay, you legitimate psychopath who tricked his girlfriend into penetrating herself with a tampered object. He later films her peeing, complaining that her vagina is on fire, and then in the bathroom with her pants down trying to take care of it, before giggling as he shows her the pepper. She kicks him out of the house.
G/O Media may get a commission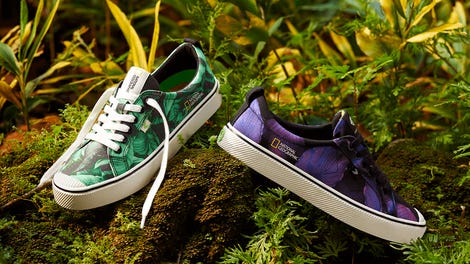 New New New
Cariuma + National Geographic
It's unclear whether or not the prank was staged or legitimately violent (most of his pranks appear heavily directed and edited), and whether or not his girlfriend agreed to have the footage online. Either way, the video, which is also posted on Holmes' Facebook page, has been viewed over 2.2 million times and shared over 18,300 times, meaning at least thousands of idiot boys have seen this video and equated its content with fame, helped along, of course, by HuffPo.
His other pranks include proposing to his girlfriend (also named Jen, but she has different colored hair, so I'm just not sure) but when she opens the box there's a bag of tea, and cutting her hair while she's sleeping.
A HuffPo spokesperson has not yet returned Jezebel's request for comment.
Update (3:10 p.m.): "We determined that the story does not meet our editorial standards and have therefore removed the post," said HuffPo spokesperson Lena Auerbach in a statement provided to Jezebel.
Auerbuch also directed me to an editor's note which is now accessible where the article used to be, reading: "A story previously in this space fell short of our editorial standards and has been removed. We regret the error."