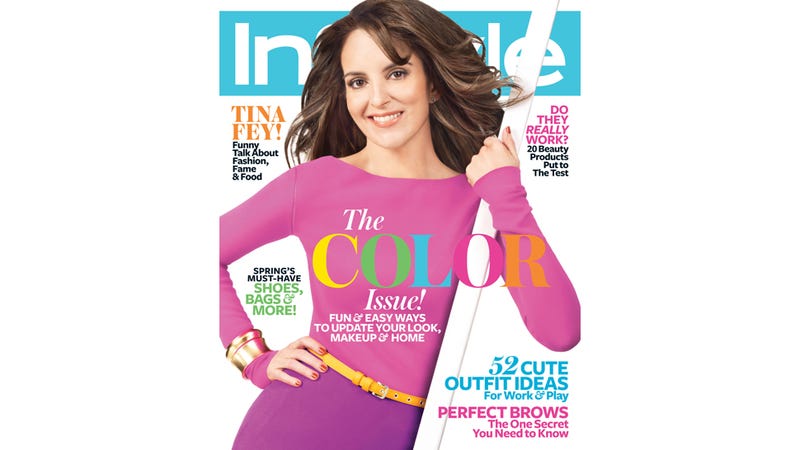 Here is what happens when a middle-brow fashion magazine gets its hands on a smart woman beloved for her talent and humor for a spring issue: they give her fashion scurvy and try to cure it with fruity-colored clothes. And it doesn't just happen to white ladies!
It's the cover I have a problem with, not the cover model. Let's examine the 8 things happening here, because everything important deserves to be numbered:
1. Tina Fey is holding onto a long white stick. Women's studies majors, take it away.
2. Tina Fey has windblown hair, indoors. (Tina Fey's Vogue cover did feature windblown hair, but she was clearly shot outdoors.)
3. Tina Fey's skirt is the same color as Grimace the Happy Meal character, a detail Liz Lemon would appreciate.
4. Tina Fey's name is incredibly catchy and fun to say.
5. Tina Fey! Funnily talks about fashion, fame, and food, none of the topics that I'd like to hear her funnily talk about.
6. Tina Fey also talks about someone else in the InStyle article, which is apparently the most important nugget People.com took away from the interview. And given InStyle's sharp writing, it might just be the most interesting thing in the inevitable puff piece.
7. Tina Fey doesn't mind Gwyneth Paltrow's incessant public whining. Suck on this, Lemon!
8. 52 NEW CUTE OUTFITS TO TRY!!!!!!
This post originally appeared on Blergalicious. Republished with permission.
Want to see your work here? Email us.