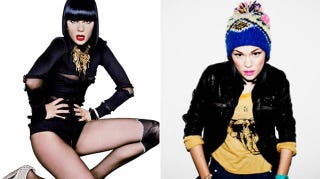 We're fans of Jessie J. Are you? Maybe you want to be her? Or at least look like her for a little while? Okay, yeah, we can do that.
(Note: This is not creepy, because you will look cool.)
The Style: Badass Katy Perry. Like, a tougher, not-annoying version. If you don't have black hair, obviously dye it and break out the flat-iron; put on some thick swipes of black eyeliner (easier than you think when you're going big). But no vamps, please: You're shooting for a balance of sex-kitten and LOLcat. Like sex-bomb tights and cheeky hair accessories. You know you can do it.
The Goods: This version might cost you some allowance money — consider it mere guidance before you hit H&M or wherever.
House of Holland Fringed Tights, $27.99, available at Modcloth; Vena Cava Bomber Jacket, $310, available at Refinery29 Boutiques; Juicy Couture Multi-Layer Fringe Bracelet, $100, available at Ssense; MAC Russian Red Lipstick, $14.50, available at MAC; Halston Heritage Sandals, $225, available at Net-A-Porter.
Want to go all SWF on some other musical ladies? Refinery29 will show you the way.
Related: Jessie J. Actually Has A Great Voice, Not That That's Enough These Days