So you're a grown-ass adult who still looks like a teenager. If you're one of those women out there who doesn't care that "you'll love it when you're older" [Ed: But really, you will], you're not alone: We received an email from a baby-faced 26-year-old who said she was sick of getting categorized as a "young and innocent thing." Yeah, been there. I am there.
She writes:
I have this problem: I'm 26 years old and people still guess my age at 18 at times.

I'm short and slightly built and just happen to have a cute and childish looking face. First impressions count a lot in meeting people and most people's first impression of me apparently is "young and innocent thing". I get that from men (a horrible thing in dating because I attract exactly the men I despise: guys who like to feel superior to their woman) but also from women. Anyone who talks to me for a while will realize the discrepancies, though they may still believe I'm young but an overachiever - "What, you've done x and y and z?? Amazing!!" - which not what I'm going for either, since upon learning my real age they also lose that impressed look on their face.

Here's what I know: I know I'm an accomplice in all of this. When people say "Oh I thought you were 19!!!" I smile and basically say I agree, I do look young. When men patronize me a part of me wants to scratch their eyes out while another part's intuition is to pout in a cute way - both reactions that delighted my father and other older men when I was little but have no place in the adult world.
But what *is* the right way to react? Do I say "Mister, I don't appreciate you treating me like a toddler"? That's all that comes to mind and it doesn't sound right at all. How do I lose my stupid conditioning and "grow up"?

So far, it seems to me that the best way to counteract my being taken for too young is to dress conservatively and expensively, though that is hard while still being a student. I've also resolved to use more make-up (which usually I don't bother which, both on the grounds of idealism and lazyness) and come off as unfriendly rather than childish (see above).

I'd appreciate your help, and I'm sure so would a few other women I know.
I know exactly how you feel, because I'm also short and slightly built and look younger than I am, which can complicate professional and personal situations; people always assume I'm an intern or a student, and guys think it's hilarious to ask me whether I'm old enough for them to buy me a drink. Until recently, it really bugged me when people gave me shit for looking like a teenager, and it bothered me even more when people didn't understand why I cared. ("You'll love it when you're older!" they always promise. "You'll be carded until you're fifty!") But perfecting comebacks to obnoxious comments about my looks has made me care a whole lot less.
I like to call the conversation you're referring to "The Age Interrogation." Nowadays, it takes place less often than it used to, but still occurs at least a few times a month. It doesn't matter where I am or who's questioning me; the conversation is always the same. Here's how it used to go before I wizened up:
"No way," he or she (bouncer/grocery store cashier/nurse/random douchebag) will say at first, furrowing his or her brow, looking me up and down like I'm a small animal at the zoo.
G/O Media may get a commission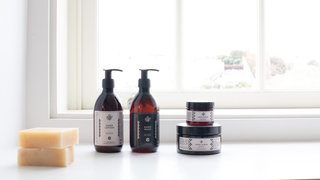 Exfoliate and Hydrate
The Handmade Soap Company
"Yeah."
The eyebrows raise.
"I mean, no way."
"Yeah. Yeah, I'm really 24."
"But… but, you look so young."
"Yeah, I know." (I always wonder: Do they think I've never looked in the mirror before? Do they think they're doing me a public service?)
"I thought you were, like, eighteen. At the most."
"Yeah… yeah, no. I'm not. I'm 24."

"Wow. But you look so young!"
Et cetera.
The conversation can go on and on until you start feeling awkward and weird. But you're not the one who should feel that way; they're the ones who, for some reason, are obsessed with the fact that you look a few years younger. Chances are, the person you're talking to isn't a huge asshole but just insensitive or socially inept. They're bad at making conversation so they resort to lame "compliments" like, "You're just so adorable!" Or, they actually do think they're complimenting you; lots of people do wish they looked younger and can't understand why it can suck to be baby-faced. It's also possible that this person is trying to tease and/or flirt with you, and isn't aware that "The Game" doesn't actually work.
So here's what you do: if the person is nice, like the woman who works at my corner bodega who loves to tell me I look like a highschooler every time I buy a bottle of wine, just smile and say "I know, it's crazy!" and change the subject. If the person is clearly trying to get at you, smile extra-large and say "Oh, thank you" super sarcastically, like they've just paid you a gigantic compliment. This is my favorite way to respond, because it not only shuts people up but has the extra advantage of confusing them as well.
If they really won't let it go, like the guys you described in your email (also, stop hanging out with such dicks?), the best thing to do is stay calm and say "I'm aware." Leave it at that. Are you familiar with the Napoleon complex? I'm not suggesting you try and conquer Europe, but it's a powerful feeling to realize that you don't have to be physically intimidating to make an impact on someone. If you stand up straight, look people in the eye, and make it clear that you don't find what they're saying cute or sexy or funny, they'll give it up.
I really think acting mature is the secret to looking more mature, but it obviously doesn't hurt to dress your age as well. People rarely think I'm younger when I take the time to "do" my hair (which really just means I brush it), wear a little makeup, and dress in form-fitting clothes and heels. I also feel more confident when I do those things, so it works both ways. If you feel awesome and comfortable with yourself, you won't have to act unfriendly or spit out formal retorts. Act like you don't give a fuck what people think of you, and soon, you won't. How goddamned mature is THAT?
Image via Celeborn /Shutterstock.